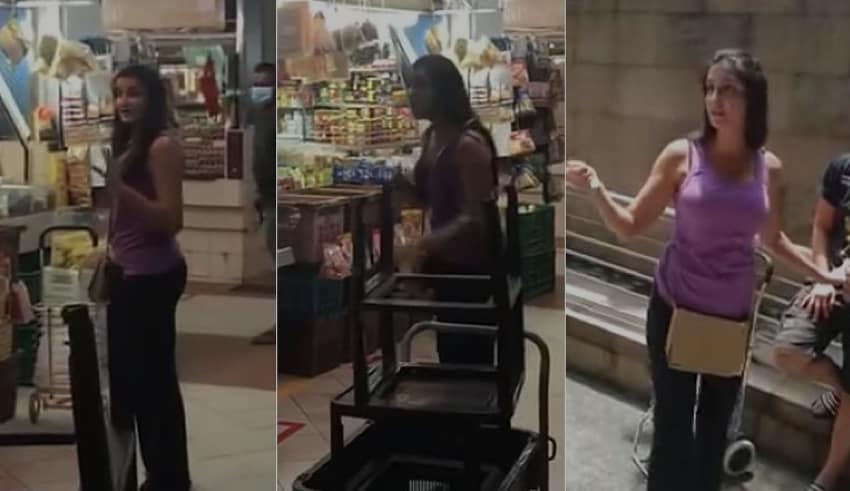 SINGAPORE – A 40-year-old Singaporean woman who were accused of not wearing a mask at mart near Upper Thomson Road, was charged for several offences, including one count of being a public nuisance and three counts of violating Covid-19 rules.
Paramjeet Kaur, 40, was arrested after videos of her surfaced assaulting a 47-year-old woman, causing public nuisance and failing to wear a facemask when she went to a food stall .
"Everyone should take the circuit breaker measures seriously. The police will not tolerate such blatant disregard of the law and wilful breaches of safe distancing measures," The police said in a statement.
In another clip, she was heard saying "I'm a sovereign… This is something people are not going to know what it is."
Law and Home Affairs Minister K Shanmugam said he reviewed what the woman might have meant when she referred to herself as "sovereign".
"There is a movement in the US, and adherents to that movement, (broadly speaking) reject Government, reject the police and any kind of authority," Mr Shanmugam explained in a Facebook post.
"If she doesn't follow the rules and (say) ends up infecting someone – why should society accept that?"
"She should not expect any of the benefits that come from this system of governance, including her security, medical care, other benefits." He added. Kaur will be detained at the Institute of Mental Health and will be back in court on May 19.