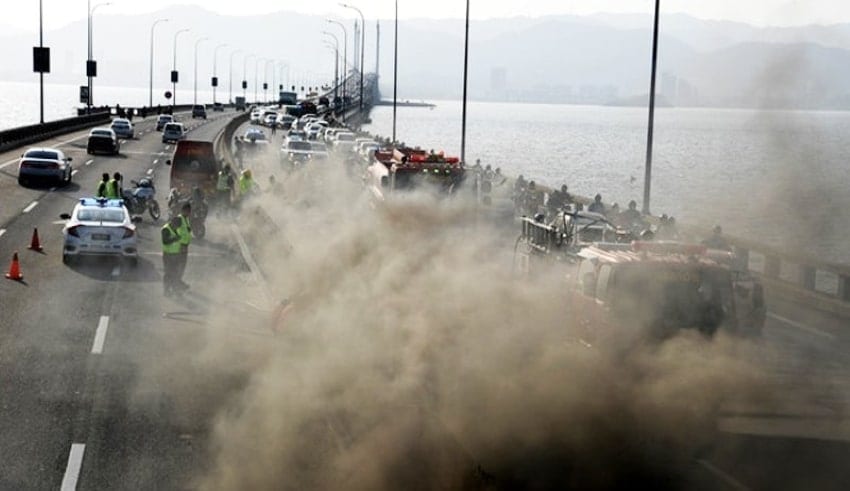 GEORGE TOWN: A state exco-man said today that it will take at least three months to fix the main power supply cable from Seberang Perai to the island that caught fire under the Penang Bridge.
The repair work may also involve the closing of one lane for some time on both sides of the bridge.
Zairil Khir Johari, chairman of the Infrastructure and Transport Committee, said the incident triggered a 35-second power outage in parts of the island, but power was restored as backups were turned on.
He said the backups were part of a four-circuit power supply system, mainly via a submarine cable that supplies 1,180 MW, while 310 MW can be generated by the Gelugor power plant.
The island's average power demand was 700MW, and to meet demand, there was more than double that on tap, he said.
Zairil said that once Tenaga Nasional Bhd (TNB) holds a meeting today with Penang Bridge's concessionaire, PLUS Bhd, a comprehensive repair plan will be obtained.
"The time taken for the repairs would depend on the level of damage and negotiations with PLUS over the need for road closures," he said, adding that TNB was confident it would not take more than three months.
PLUS said the bridge's rightmost lanes on both sides would be closed to traffic "for a few days," at least to allow the incident to be investigated by TNB, firemen and police.
"In the meantime, we would like to advise motorists to use the second bridge so as to avoid potential traffic build-up," it said in a statement.
TNB said yesterday that a 132 kV cable from the main intake substation from Bukit Tengah on the mainland to Bayan Mutiara, near Pantai Jerejak, on the island, was involved in the fire.
TNB grid chief Husaini Husin said the cause of the fire had yet to be identified.
On both sides of the bridge, the fire created traffic congestion, with the usual 20-minute drive being a 3-hour crawl, as firefighting work was carried out.