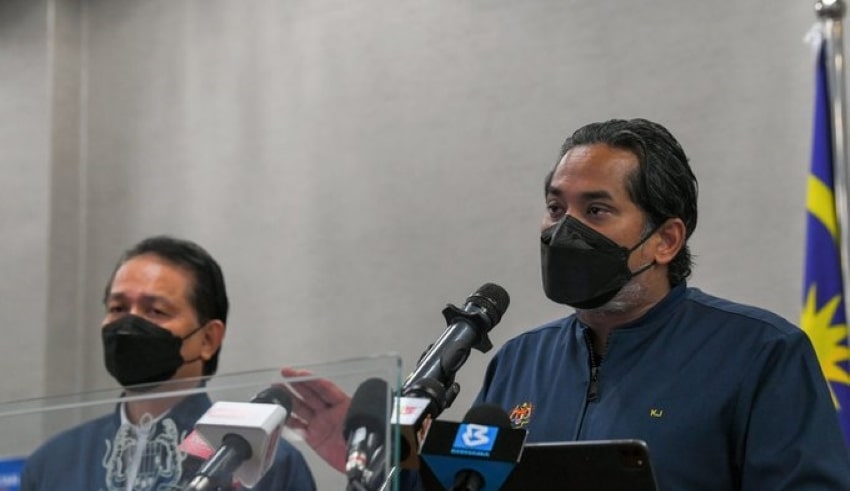 Malaysia – According to Khairy Jamaluddin, a Susceptible-Exposed-Infected-Recovered (SEIR) epidemiological prediction model forecasts that if the rate of infection (R0) rises to 1.6, Malaysia might have 30,000 Covid-19 cases each day by the end of March.
Then it would surpass Malaysia's previous single-day high of 24,599 set in August of last year.
In a news conference held recently, the health minister also mentioned that the United Kingdom had seen a R0 as high as 3.0 in its continuing Omicron outbreak, and that Malaysia needed to take steps to avoid this from occurring in the nation.
"The simulation confirmed the Health Ministry's estimate that if we don't take actions to restrict the transmission — such as a temporary travel ban — cases would skyrocket, reaching almost 15,000 cases per day in January."
Daripada 1 Dis hingga 4 Jan, 1,303 pengembara dari Arab Saudi telah dikesan positif COVID-19 semasa tiba di KLIA. 1,260 positif pada hari ke-5. Penangguhan aktiviti umrah ditangguh selama sebulan bermula 8 Jan 22 bagi mengawal penularan Omicron dalam negara. pic.twitter.com/kXOlB2xjdz

— Khairy Jamaluddin 🇲🇾🌺 (@Khairykj) January 7, 2022
Even while the Omicron variant was not as severe as the Delta variant, Khairy predicted that such large numbers will surely result in plenty of severe cases to overwhelm Malaysia's still-recovering healthcare system.
He added that on December 30, 2021, there were 57,355 surgical and medical backlog cases at public hospitals, which has now been decreased to 52,189.
Related Posts
"We can only look at these backlog cases now since physicians and hospitals are swamped with Covid-19 patients, including some who need urgent care." If we allow Omicron in too soon, our backlog will grow and we will be more delayed," he said.
To combat this, Khairy announced on January 15 that four integrated Covid-19 Vaccination Centres (PPVs) will begin operations to increase the delivery of Covid-19 booster doses.
The four PPVs are Kuala Lumpur's World Trade Centre, Axiata Arena, Shah Alam's Ideal Convention Centre (IDCC), and Klang's Soka Gakkai Hall.
He further said that as of yesterday, 30% of Malaysia's adult population has gotten booster doses, with 52% of those over 60 having the third shot as well.
He also urged those who have not yet got their booster shot appointments to contact private clinics or health institutions covered by ProtectHealth to schedule an appointment.