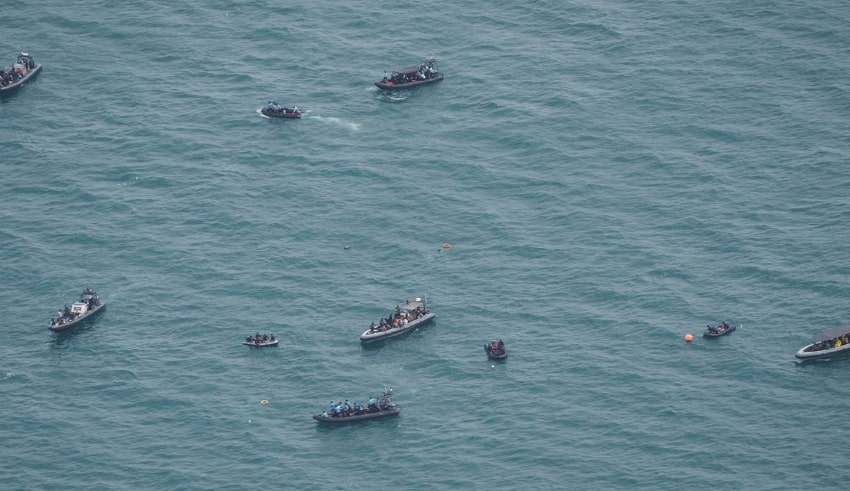 Amidst the loss of passengers in the recent plane crash, Rear Admiral Abdul Rasyid the Chief of the First Fleet Command of the Indonesian Navy shared that he had suspended a diving mission to retrieve the crashed Sriwijaya Air Flight SJ-182 cockpit voice recorder.
The suspension was made because the Baruna Jaya IV research vessel is performing a seafloor mapping exercise at the crash site of the aircraft using a remotely controlled underwater vehicle where he added, adding that the exercise will take place for long hours. He clarified that when the underwater mobile system is deployed, a diving activity should not be authorized in view of the safety of divers, adding that the diving service of the Navy will resume.
In view of this, the National Aviation Safety Commission announced that Baruna Jaya was roped in for the operation to recover black boxes from the crashed Boeing 737-500 aircraft. About 4:30 p.m. last Tuesday, the plane's flight data recorder was recovered from the seabed by Navy divers. Lying some 23 meters below the surface of the lake where it was discovered.
The FDR unit was turned over to the KNKT to an aircraft holding 50 passengers and 12 crew members on board when it crashed into the ocean on the 9th of January 2021. Regarding the air crash, the Coordinating Minister of Maritime Affairs and Investment, Luhut Binsar Pandjaitan, shared that the crash caused the government to look at strengthening the repair framework for domestic aircraft.
The deaths of the crash victims were condoned by Pandjaitan, who led prayers for them at the gathering. The Ministry of Transport had previously reported that the airport authorities had lost touch with the Sriwijaya Air flight on the Jakarta-Pontianak route at about 2:40 p.m of January 9th.
Morever, to the Ministry, the last contact was made 11 nautical miles north of Soekarno-Hatta International Airport with a Boeing 737-500 plane carrying the registration number PK-CLC, after the aircraft had reached an altitude of 11 thousand feet and had climbed to 13 thousand feet.
The plane took off at 2:40 p.m. from Soekarno-Hatta Airport and was expected to land at Pontianak, West Kalimantan, Supadio Airport at 3:50 p.m until the tragic incident happened.