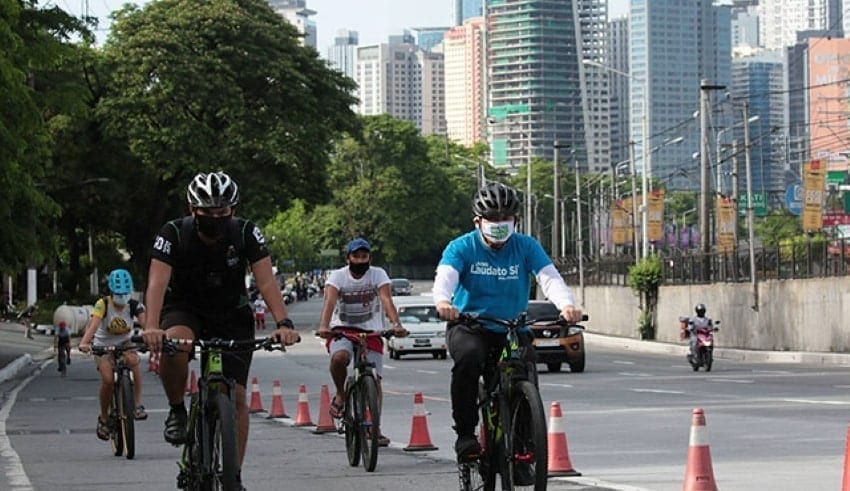 Transport supporters meet the condition set by the coronavirus task force of the government for cyclists to wear face shields over their face while outside, citing the increased danger in which riders are put.
The Step as One mobility alliance in a statement pointed to the warped image for riders and the resultant pressure on commuters, calling on the Inter-Agency Task Force on Emerging Infectious Diseases to clarify that cyclists are exempted from the requirement.
In addition to the obligatory face masks, the IATF has mandated the wearing of face shields not only for bicycles but also on other modes of public transport. Since then, some people have taken to social media to voice their frustration, calling the policy premature and unscientific. Other countries, without having such pairing, have managed to curtail the spread of the virus, and other countries that have implemented similar laws need face shields alone.
The group also challenged the fines levied on violators of the law, particularly for people found in public without face shields, after Palace spokesman Harry Roque said that this will depend on the units of the local government. Some local governments have already exempted bikers from the law, like Pasig City and Valenzuela City, and recognized the additional danger it brings.
For not wearing face masks and shields in public, none should be imprisoned or disciplined. It is the consensus of the Alliance, our allies in the medical profession, academics and civil society. For them, If the recommendations are vague and open to interpretation and discretion, both residents and municipal authorities would face difficulties.
In fact, This is not the first time that activists have criticized transportation health policies. When motorcycle barriers were needed by the IATF, experts shared that they could have a dangerous impact on wind dynamics for riders.
Morever, In the general population quarantine, hundreds were imprisoned for breaking the law previously, along with a different rule that only married couples who lived together were entitled to backride. At the time, other families who still lived together with their parents, such as siblings or infants, were forbidden from doing so, and backriders were made to show proof that at checkpoints they were romantically involved.