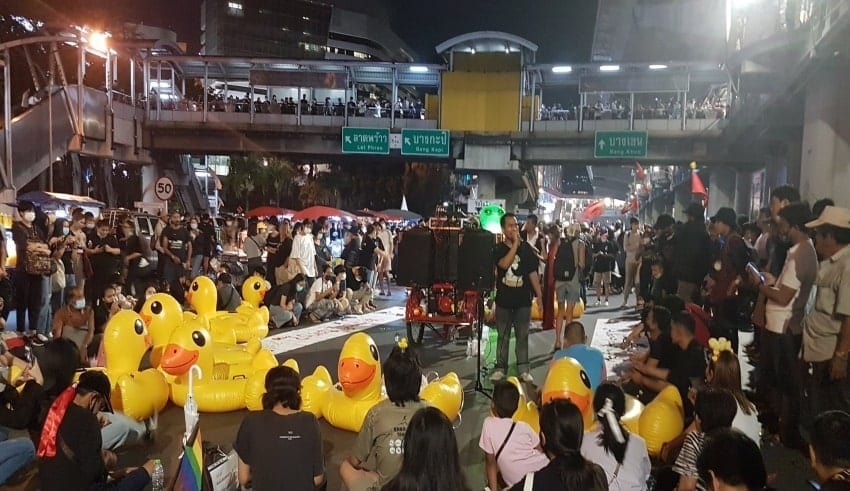 Amidst the non-stop and chaotic protest in Thailand, who would think that inflatable ducks will help the demonstrators to be less stressful about their movement and to be more creative in their agenda.
Recently, there was a  video of protesters hidden behind giant inflatable ducks that went viral when the police launched a abolition on the last month's rally using tear gas and water cannon outside parliament in Bangkok.
Within those days, the duck-themed accoutrement at protests became a favorite of street vendors, featuring birds on anything from hats to hair clips. The introduction of the inflatables as a protest symbol emerged by mistake. Actually, The protesters had planned to float behind parliament on inflatable ducks down the Chao Phraya River while legislators discussed constitutional reform measures inside.
Yet protesters highlights that the ducks have helped the pro-democracy campaign fight the PR war with authorities after their redeployment as protection from tear gas and chemical-laced water fired from cannons.
#Thailand protest using inflatable duck floaties as 1st line of defence & "security guards" #27พฤศจิกาไปห้าแยกลาดพร้าว #whatishappeninginthailand pic.twitter.com/hmABxafkP3

— May Wong (@MayWongCNA) November 27, 2020
For them they are the guardians of the people, to put it plainly. It's use for nonviolent forms to demonstrate their movement showing that they've got creative ideas like ducks to defend off the professionally armed cops, and that means they're better off with this strategy.
In view of this, The protesters are unbounded in pressing for the resignation of Prime Minister Prayut Chan-O-Cha, this is about a revision of the constitution written by the army and for changes of the monarchy.
Consequently, It is not the first time that bath-time companions have been used as objects of resistance and protest. The 16-metre inflatable duck sculpture by Dutch artist Florentijn Hofman floated in the harbor of Hong Kong in 2013, but soon became mired in controversy.
For this trivia, there is actually a demonstration in Brazil in 2016, where a giant inflatable rubber ducks featured during a campaign was used to impeach the President Dilma Rousseff and expose her government's economic as pretense.
Along with this after it emerged, The Prime Minister Dmitry Medvedev in 2017 had many lavish properties and they became a sign of protest in Russia. This that included a special duck house on a canal which is pretty controversial.