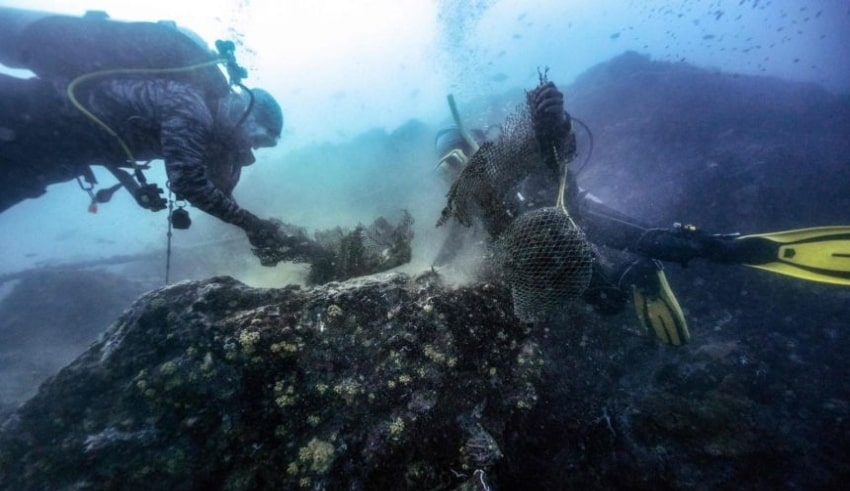 Beyond the challenge in beating the pandemic, here's another agenda the nation is dealing as underwater divers snip through discarded nets tangled around a reef in plastic-choked waters off the coast of Thailand which is a recent project to help protect marine life and assist the battle against coronavirus.
In view of this, lethal source of plastic waste, ensnaring turtles and cutting into fragile coral beds are the ghost nets discarded from the country's lucrative fishing industry. They could remain adrift for decades, either catching or becoming the food of marine animals.
During a recent boat trip off the coast of the province of Chonburi, Ingpat was speaking to AFP as a team of more than 30 divers hacked away at stubborn threads enveloping a reef 27 meters below the vessel. Another thing is, Net Free Seas, a project that collects used nets and converts them into new plastic items, meeting in this case the increasing demand for protective equipment such as face shields to protect against the pandemic.
It aims to show that in Thailand, one of the world's largest producers of ocean waste, the conservation of sea creatures can be economically viable. The initiative also comes in the midst of a rising local uproar about plastic's lethal impact on marine life.
In one notorious case, two years ago, a sick baby dugong named Mariam washed up in shallow waters and later died from an infection caused by his stomach's plastic lining. It sparked an online outpouring of grief among Thais who had been watching a live web broadcast of rescuers trying to nurse the creature back to health for months. According to Chaturathep Khowinthawong, the director of the kingdom's marine park management department, Mariam was among the nearly two dozen dead or wounded large marine animals found beached on Thailand's shores each year.
Consequently, In its first year of service, Net Free Seas saved 15 tons of waste netting from sea waters. The UN Food and Agriculture Organization says it makes its way into the oceans annually, accounting for a tiny fraction of the 640,000 tonnes of missing and discarded fishing gear. The scheme, however, has gained enthusiastic support from the local fishing community.
In fact, the collected nets are sent to Qualy Design, a small company that moulds homeware from recycled materials, to be cleaned, shredded, combined with other discarded plastics and melted into form.
Since the start of the pandemic, Qualy has used the nets to create face shields, alcohol spray bottles and table divider screens used in restaurants across Bangkok. Plastic push-sticks have been the breakthrough device, allowing people to click elevator buttons or public touchscreens such as ATM consoles without risking infection. Morever, nets are the hardest to operate with and the most costly relative to other materials.