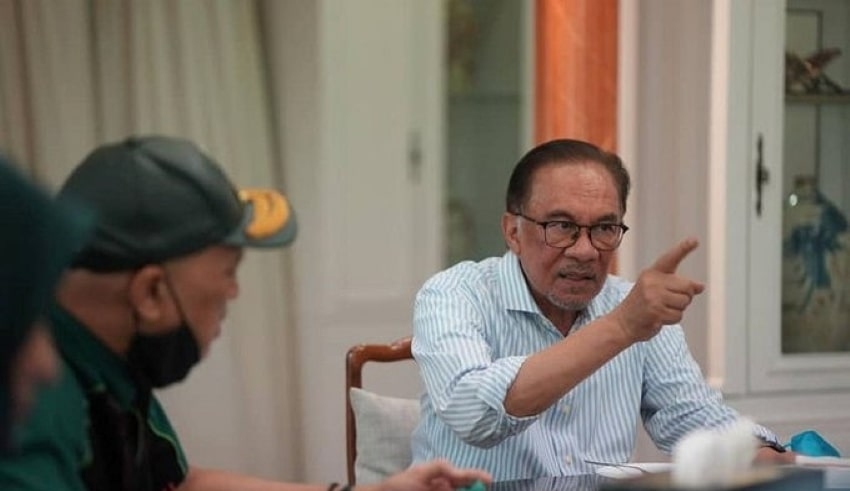 (C) AnwarIbrahim / Twitter
Malaysia – Datuk Seri Anwar Ibrahim, the opposition leader, and four elected representatives have filed applications for leave to appeal to the Federal Court against the Court of Appeal's ruling to dismiss their appeal challenging Tan Sri Muhyiddin Yassin's action in advising the Yang di-Pertuan Agong to suspend Parliament during the Emergency period.
When reached, Anwar's lawyer, Ramkarpal Singh, said his client submitted eight questions of law on December 24 in order to get permission from the Supreme Court to consider the merits of the lawsuit.
The date for case management has been set by the Federal Court Registry for January 26.
Meanwhile, lawyer Christopher Leong, who represents Pulai MP Datuk Seri Salahuddin Ayub, Sungai Petani MP Datuk Johari Abdul, Tebing Tinggi assemblyman Abdul Aziz Bari, and Pasir Gudang MP Hassan Abdul Karim, said his clients filed leave requests on December 23 and submitted two common legal questions.
A three-member Court of Appeal bench led by Judge Datuk Has Zanah Mehat denied their requests for permission to file a judicial review case against the former prime minister and the government on November 24.
Justice Has Zanah ruled unanimously that the court lacked jurisdiction to hear the judicial review petitions, even if permission was given to the appellants.
She added that it would be in vain since the court is prohibited by Article 150 (8) of the Federal Constitution from disputing the Yang di-Pertuan Agong's use of discretion on the declaration of Emergency.
Related Posts
Justice Has Zanah said that the court's authority is determined by the constitution, not by what certain political intellectuals believe judicial power is.
According to her, Parliament intended to exclude judicial review of the decision to declare emergency and to close the court's doors to any challenge to the law made during the emergency and proclamation of emergency by Yang di-Pertuan Agong under Articles 150 (6) and (8) of the Federal Constitution.
Anwar's appeal for permission to file a judicial review challenging Muhyiddin's suggestion to Yang di-Pertuan Agong Al-Sultan Abdullah Ri'ayatuddin Al-Mustafa Billah Shah to suspend Parliament under the state of emergency was denied by the Kuala Lumpur High Court on April 22.
Anwar's plea was denied by then-High Court judge Datuk Seri Mariana Yahya (now a Court of Appeal judge) on the grounds that the court lacked authority to hear the judicial review under Articles 150 (6) and 150 (8) of the Federal Constitution.
The Cabinet's and Muhyiddin's counsel to Al-Sultan Abdullah to publish the Emergency Ordinance was not subject to court scrutiny, according to Justice Mariana.