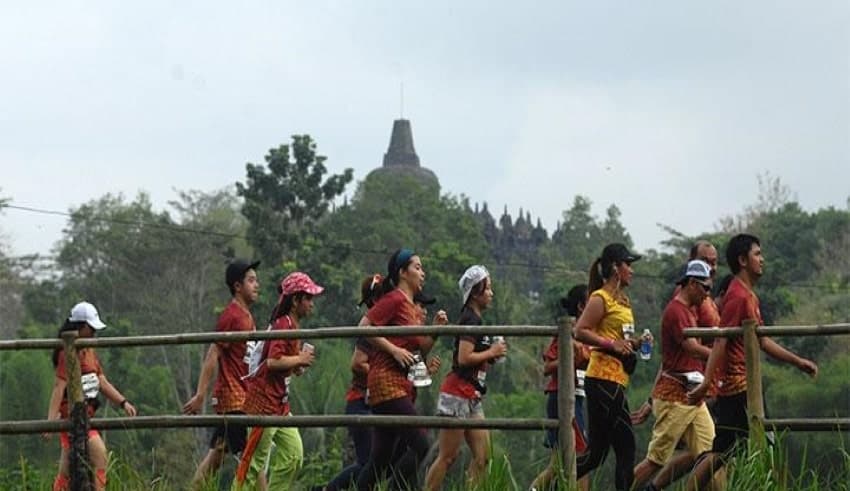 The 2020 Borobudur Marathon event which is planned to take place on 15 November 2020 and inaugurated on 8 September 2020 will still be held, but with some concept change due to the Covid-19 pandemic.
Head of the Central Java Tourism and Youth Sports Agency (Disporapar) Sinung Nugroho Rachmadi said that for the implementation of the 2020 Borobudur Marathon will limit the number of runners to just 30 professional and local athletes and plans to let more runners participate in the event virtually.
By the policy of the Covid-19 Task Force, tourist destinations can be held with a maximum capacity of 50 percent. He also hopes that this can provide an example for holding an activity so that it can still be carried out in a limited capacity
Borobudur Marathon organizer Budhi Sarwiadi said that the 2020 Borobudur Marathon will be turned into a virtual running event.
Even though the activity was changed to virtual, Budhi said there was no change in the distance category at the 2020 Borobudur Marathon.
Budhi also said that Borobudur Marathon this year is a form of appreciation for running lovers and the people of Magelang, Central Java.
There are three main categories in Borobudur Marathon such as Marathon, Half Marathon, and 10k. There is one additional category, Friendship with a distance of 3.8 km.
Borobudur Marathon 2020 is planned to be held on Sunday, November 15 at the Lumbini Park Complex, Borobudur Temple, Magelang, Central Java.
As it is known, the total confirmed positive cases of corona in Central Java reached 14,863 people. Therefore, cases of coronavirus infection in Central Java are said to be in a crisis.