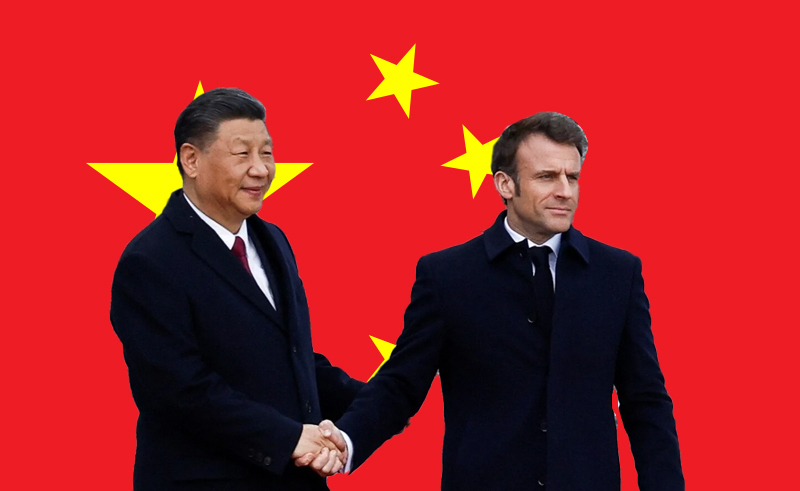 can macron discourage china from supporting russias invasion of ukraine
Arriving in Beijing on Wednesday for a three-day visit, Emmanuel Macron shook hands with his Chinese counterpart Xi Jinping on Thursday, as the French president seeks to discourage China from supporting the brutal year-long conflict in Ukraine.
Macron – who is accompanied by the President of the European Commission, Ursula von der Leyen, on his trip – said he wants to "be a voice that unites Europe" over Ukraine.
Just a day back, the French leader had highlighted the "major role" Beijing could play in finding a path to peace in Russia's invasion of Ukraine, while welcoming the Asian nation's "willingness to commit to a resolution".
China is currently under growing Western pressure to find an effective way to peace in the conflict. Although the country is officially neutral, Xi has never condemned the so-called special military operation.
While he recently made a trip to Moscow to reaffirm his alliance with his Russian counterpart Vladimir Putin, he has not even spoken on the phone with Ukraine's Volodymyr Zelensky.
Keep Reading
Macron shook hands with Xi outside Beijing's Great Hall of the People. The Chinese leader greeted his French counterpart on a huge red carpet lined by flags of both countries as the national anthems played.
Macron stressed the importance of dialogue between the two countries in these sensitive times in a meeting with Chinese Premier Li Qiang Thursday morning.
The high-profile visit comes against a backdrop of growing Chinese pressure on Taiwan, with the self-ruled island's President Tsai Ing-wen meeting US House Speaker Kevin McCarthy in California today.
Beijing has often expressed displeasure at any official contact between Taipei and the rest of the world, stressing there is just "one China".
While China deployed an aircraft carrier through waters near the island hours before the meeting, Taiwan's Ministry of National Defence said three more warships were detected in waters separating the country from mainland China.