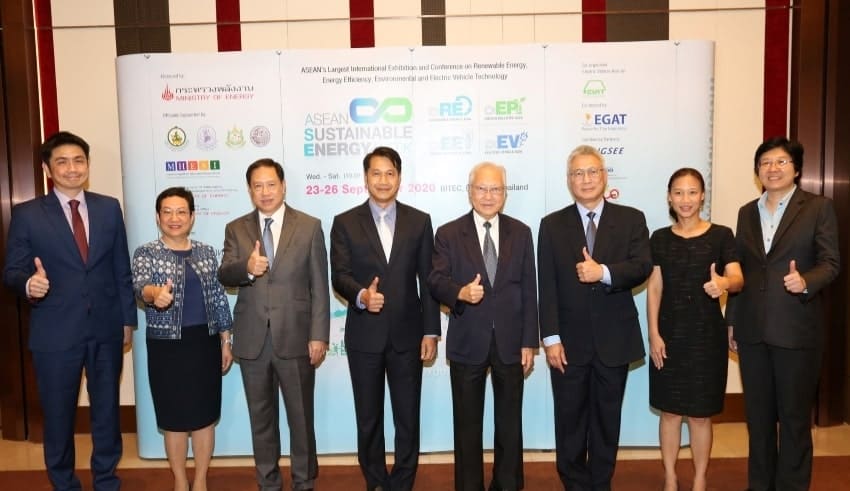 Informa Markets organizes exhibitions of renewable energy & electric vehicle technology in cooperation with government-private sectors; exhibits the latest developments and technologies with seminars; work towards a cleaner and safer 'new normal' world from 23 September 2020.
Informa Markets; the organiser of ASEAN Sustainable Energy Week 2020; joins forces with government and private sectors. The most detailed regional exhibition in the area of renewable energy; environmental & energy conservation. ASE 2020, the year's first exhibition, will be held in Bangkok International Trade and Exhibition Center (BITEC) Bangna between 23-26 September. The display will collect the most innovative and world-class innovations in the post-COVID world that can fulfill all the demands.
Dr. Twarath Sutabutr, Inspector General of the Ministry of Energy said: ASEAN Sustainable Energy Week 2020 is one of the most detailed regional exhibitions that we have ever seen since the exhibition needs to adapt to the new-normal lifestyle, health guidelines and regulations under the COVID-19 set. The show aims at raising awareness about energy conservation and collecting the latest renewable energy technologies.
The Ministry of Energy will host this year's seminar, one of the exhibition 's highlights, on 25 September, entitled International Conference – Rural Electrification: Thailand 's Foreign Experience and Growth. The seminar will educate the participants on electrical off-grid technologies for remote areas. Attendance is available both offline and as a virtual online seminar.
Mr. Manu Leopairote, Chairman-Thailand of Informa Markets revealed that: "As the official 30-year host of this exhibition, Informa Markets will ensure that Informa Markets and its government and private sector partners are more than ready to host the ASEAN Sustainable Energy Week 2020. The new normal hygiene policy is already in place in line with Informa AllSecure health and safety requirements including compliance with visiting regulations. The show will be held this year in hybrid form including physical and virtual versions.
This will make it easier for tourists from abroad who can not fly to the online exhibition easily during the four days of the exhibition. In conjunction with Renewable Energy Asia, Entech Pollutec Asia, Energy Efficiency Expo and Electric Vehicle Asia at the Bangkok International & Trade Exhibition Center (BITEC), Bangna, Bangkok, ASEAN Sustainable Energy Week 2020 (ASE2020), the most comprehensive showcase of renewable energy innovation, energy conservation , environmental and electric vehicle technology, will be held.