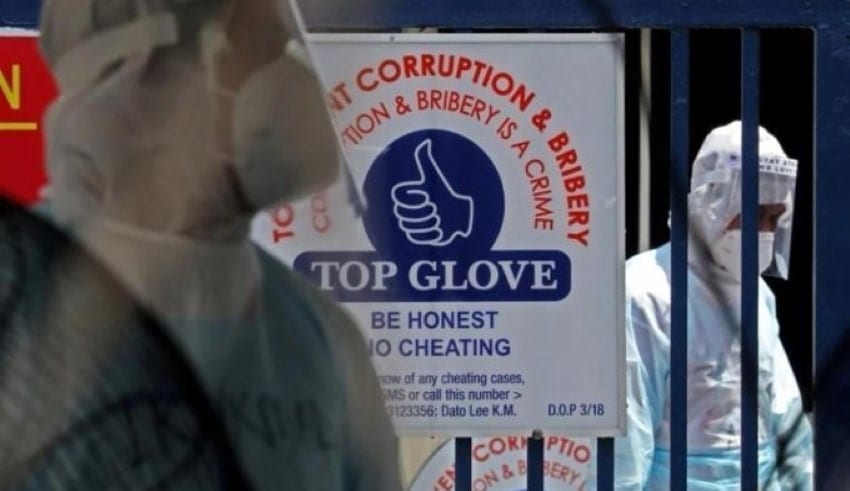 KUALA LUMPUR -Malaysia's Top Glove, the world's largest rubber glove manufacturer, said Wednesday that due to an outbreak of the coronavirus, supply disruptions at its factories may drive glove prices up.
After nearly 3,000 employees tested positive for the virus, the company said it had shut down 20 of its factories in an area outside Kuala Lumpur in phases since Nov. 17. A further eight facilities in the same region currently have a capacity of less than 20% and will also be closed to screening and quarantine personnel.

There is a certain shortage, of course, as Top Glove is a major supplier in the world. Supply would certainly somehow be affected… Executive Chairman Lim Wee Chai told a virtual news conference that there is a risk that glove prices will go up,
July : Top Glove increases production to meet rising demand

Nov 1: Few employees positive #COVID19

Nov 16: Lockdown = 215 positive in one of the hostels in Meru. Share price slumped 10%.

Nov 17: 3,550 workers tested.

Nov 22: 502 new cases.

🙏🏻 for Meru people & Top Glove. https://t.co/cXdapXCMOH

— MohdFaizalHassan 🇲🇾 (@f4izalhassan) November 22, 2020
The group, which accounts for about a quarter of global supply, said it expects some deliveries to be delayed for between two and four weeks and estimated an impact of 3 percent on expected annual revenue for the financial year 2021.

Managing Director Lee Kim Meow told the news conference that no order cancellations have occurred so far. He said hospitals and critical services would be given priority in the midst of the shortage, and expressed faith that the problem will be resolved quickly. Approximately 90 billion rubber gloves a year are manufactured by Top Glove and exported to 195 countries.

At present, with 4,036 coronavirus cases, the area in Klang where Top Glove factories and workers' hostels are located is the most active in the world. Two Top Glove hostels were surrounded by barbed wires, which were placed under lockdown.
He said that his team was taken by surprise by the statements of Human Resources Minister M. Saravanan that checks so far have shown "deplorable conditions in the housing of the workers.

I've visited hostels and the circumstances are bad. As this is a large, vulnerable migrant worker colony, my officers were ordered to go in full force. Saravanan reportedly told a local newspaper this week that if we don't act, this cluster might get out of control. His remarks to The Associated Press were reported by an aide to the minister.