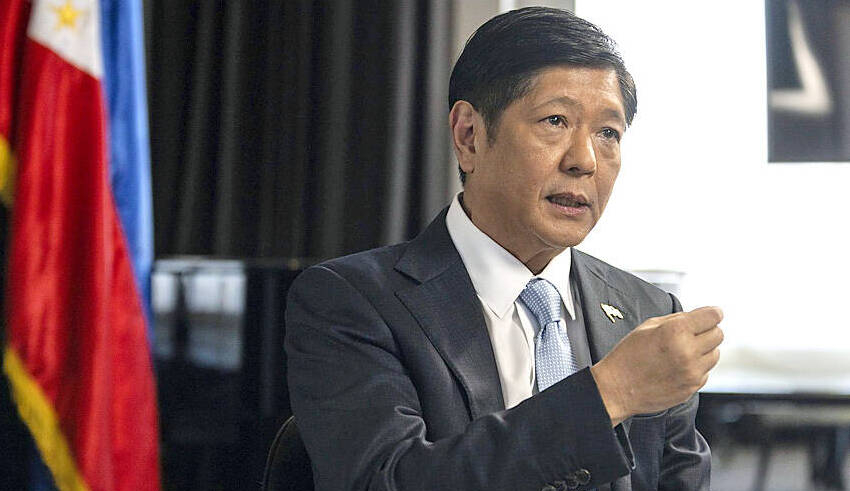 President Ferdinand Marcos Jr. stated that members of a bilateral group addressing the West Philippine Sea conflict should have "direct access" to both him and Chinese President Xi Jinping to allow faster communication and decision-making.
"I desired to elevate the dialogue to a ministerial level and provide direct access to both presidents. The objective is, of course, to minimize all of these 'incidents,'" Marcos told reporters in Beijing on January 5 at the conclusion of his state visit to China.
The bilateral group consists of representatives from the foreign ministries of the Philippines and China. During their yearly bilateral consultation mechanism, the members of this group discuss matters pertaining to the West Philippine Sea.
Marcos, in a meeting with Xi, addressed the long-standing disagreement, telling Xi that increased communication between Manila and Beijing was vital in the West Philippine Sea, where Chinese and Philippine warships sometimes collide.
The Philippine leader attributed confrontations in the tense waterway to a "lack of communication" between the two countries, citing it as the reason why Filipino fishermen had trouble accessing the country's waters and why Philippine Coast Guard vessels frequently encountered Chinese coast guard ships.
Marcos stated in a mix of English and Filipino, "When communication channels are open, President Xi will be able to make a decision; I will be able to make decisions swiftly, and I believe we will be able to decrease the challenges we are currently facing in that region."
He continued, "Hindi magkakaproblema sa misinformation na maaring mangyari kapag napakatagal bago nakapag-usap kami." (We will not have an issue with disinformation that could arise if we wait too long to talk.)
Keep Reading
China continues to assert its vast claims in Philippine waters despite a 2016 landmark legal ruling that upheld the Philippines' rights in the West Philippine Sea. China has also rejected international calls to comply with the 2016 Hague judgement, labeling it "illegal and void."
An agreement establishing "direct communication" between the Philippine Department of Foreign Affairs' (DFA) Office of Maritime Affairs and the Chinese Foreign Ministry's Department of Boundary and Ocean Affairs was signed during Marcos' 48-hour visit to China.
In a joint statement issued on Thursday, the two leaders referred to the initiative as a "confidence-building" measure that would create "mutual trust" on the topic.
"All of these things," remarked Marcos, alluding to occurrences, "would be discussed if we did so."
On his return to the Philippines, Marcos stated that Philippine Foreign Secretary Enrique Manalo and Chinese Foreign Minister Qin Gang will conclude the formation of a bilateral group, adding that "the issue with our fishermen will be the top priority."
Renato de Castro, an expert in international relations, criticized China's stance on the issue as "very arrogant," given that Filipinos have the right to fish in waters that are part of the Philippines' exclusive economic zone.
"However, at least President Marcos stated that this should not be done unilaterally. It should be bilateral," De Castro told ANC in an interview. "According to his realism, we should not allow China to choose whether our own fisherman may fish in our exclusive economic zone. This is something we must assert."
De Castro stated that the Marcos administration should go "beyond diplomatic platitudes" by safeguarding Filipino fishermen who venture into dangerous waters.
In recent years, Filipino fishermen have raised concerns about Chinese harassment in Philippine waters, with Chinese warships frequently restricting their mobility in Panatag (Scarborough) Shoal and other regions of the Kalayaan Island Group (Spratlys).
Filipino fishermen have also reported that it has become more difficult to fish in regions such as Recto Bank due to the influx of Chinese vessels.