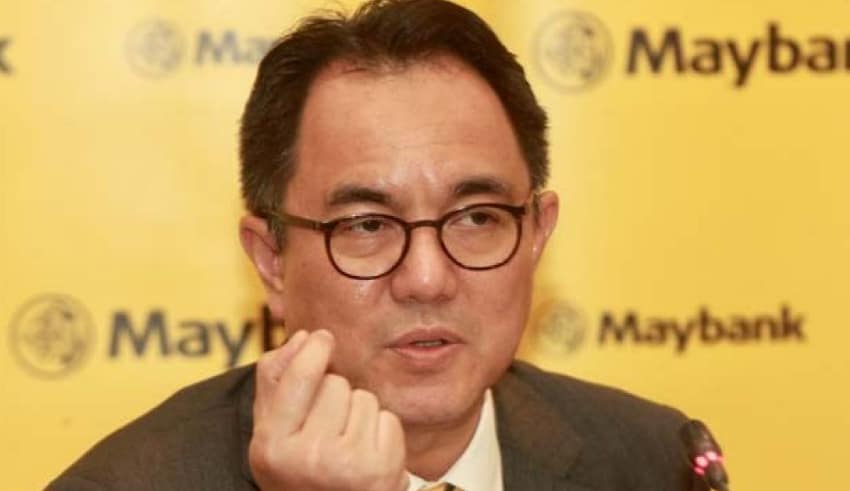 Malaysia's largest listed banking group MALAYAN BANKING BHD (Maybank) has cautioned about its "extremely tough" prospects and the possibility of future margin compression ahead, as it started the 2020 financial year (FY20) with modest loan growth and a fall in total deposits.
The bank, which is also the fourth largest bank by assets in South-East Asia, thus proposed theoretically lowering its equity return (RoE) goal for FY20, which had previously risen to 11 percent. It also intends to further degrade its asset quality after the current ban on loans ends by the end of Sept.
Although Maybank's net income in the first quarter of FY20 (1Q20) jumped by 13 per cent year-on-year, the bank said the latest results are not indicative of the financial success of the next three quarters.
According to its company chairman and chief executive Datuk Abdul Farid Alias, the main contribution to the first quarter performance (pictured below) came from the sell-down of some of Maybank's liquid assets and fixed-income instruments, which was beyond the optimum point.
That culminated in a 53.2% rise in our total fee-based income, which then raised our total operating revenue by 14.7%.
Maybank's net profit rose by RM240.39mil or 13.29 per cent y-o – y to RM2.05bil in the January-March 2020 period. Pre-tax profit from RM2.45bil climbed 14.2 per cent to RM2.8bil.
Profit per share was 18.23 sen, relative to 16.37 sen a year earlier.
Meanwhile, in the same quarter a year ago, its revenue increased by 1.9 per cent to RM13.22bil from RM12.97bil.
The net interest income of Maybank and Islamic banking revenue increased to RM4.53bil by RM81.8mil or 1.8 per cent y-o – y. On the other side, insurer 's total received insurance premiums and Takaful branches rose to RM1.94bil by RM318.4mil or 19.6 per cent y-o – y.
Other operating profits dropped by 20.5 per cent y-o – y to RM1.33bil, mainly attributed to unrealized mark-to – market loss related to the revaluation of capital assets or fair value liabilities by benefit or loss, securities as well as RM282.5mil loans, advances and funding.
Throughout the first quarter, the expense to profit ratio rose to 43.7 per cent, down from last year's 47.9 per cent.
While acknowledging the daunting and unpredictable business climate ahead that was partially attributed to the Covid-19 pandemic, Maybank said it should re-evaluate its Key Performance Index (KPI) headline for RoE.
This will be done once the impact of the economic slowdown could be ascertained on its operations. Previously, the bank had set its headline KPI at 11% FY20, up from 10%.
Maybank 's total loans increased slightly by 0.3 percent y-o – y in the first quarter of FY20, while loans grew by 5 percent y-o – y in its Malaysian activities, driven by rises in both the Community's financial services and global banking segments.
However, this was balanced in part by decreases in both the Singapore and Indonesian activities in line with the group 's plan to realign their portfolios due to improvements in the risk profiles of certain segments.
Meanwhile, the overall deposits of the banking sector reported a decline of 2.5 per cent over 3 month span.
Maybank said the company would exploit its diversified business to accelerate sales growth, enhance the experience of consumers by digital technologies, and continue to update its staff to boost profitability.
Lastly, In the light of the anticipated external environment uncertainties, the Maybank group will manage its capital and liquidity power, sustain limited balance sheet growth in accordance with the risk tolerance of the company and stay centered on our continuing cost control.