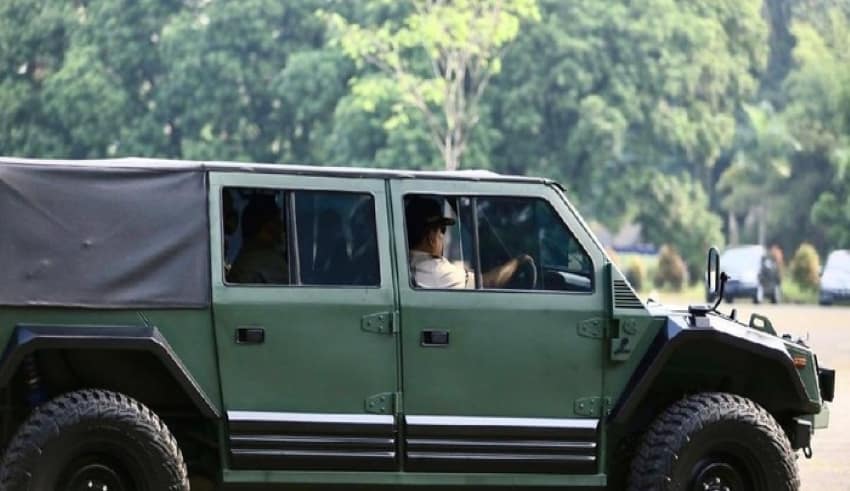 The Ministry of Defense has ordered 500 units of Maung light tactical vehicles made by the state-owned company, PT Pindad (Persero).
This was confirmed by PT Pindad's Managing Director, Abraham Mose. "That's right (already ordered). The price of 600 million per unit is complete," said Abraham Mose via text message, Monday, July 13.
PT Pindad will soon mass-produce this Maung to fulfill the Ministry of Defense's orders. "This year (produced) and now being discussed for the procurement of its components," said Mose. The Minister of Defense Prabowo Subianto also tried out a 4×4 tactical vehicle made by Pindad that was released on Sunday, July 12.
Prabowo said the Ministry of Defense will continue to support efforts to increase the production of the main defense equipment in the country.
Pada sore hari ini saya dan tim dari PT. PINDAD mencoba kendaraan Rantis 4X4 yang kami beri nama Maung. pic.twitter.com/0BEGeAalkR

— Prabowo Subianto (@prabowo) July 12, 2020
Maung's tactical vehicle made by Pindad is not only sold to the Ministry of Defense. According to Pindad, Maung with 'civil' specifications will be sold to the public at a cheaper price.
Abraham explained Maung would be sold to the public such as SUV type vehicles. The marketing will be carried out after the cooperation with the Ministry of Defense is completed.
Specifically, there are certain fundamental differences from Maung between the military version and the civil version. Of course, Maung's specifications for civilians are not equipped with weapons.
Other differences are, the body and the glass is not bulletproof and without a rollbar.
However, Abraham said if there were consumers who wanted Maung it could have been equipped with bulletproof components but with the consequence of price adjustments.
Pindad develops Maung into four variants, three of which are called double cabins, logistical vehicles, and cars that are specialized for close combat as ordered by the Ministry of Defense.
"But we are still testing the following three variants, and we just released this one [order from the Ministry of Defense]," Abraham said.
Maung civil version will be sold in 3 variants, with different prices too. "The variant used by the Minister of Defense for military types is around Rp. 600 million. If civilian types can be in the amount of Rp. 500 million," he said again.
"After the production of this type of military is finished. People can order the civil version of Maung at the beginning of next year," he said.
For information, Maung is equipped with a 4-cylinder, 2,400 CC, 6-speed turbo diesel engine with a four-wheel drive (FWD) drive system. This war car also features a military spec, with a 7.62 caliber weapon bracket and SS2-V4 assault rifle console.
There are also towing 4 pieces, including winch with the ability to pull loads up to 4.5 tons. Also equipped with a capacity of 2 x 20 liters of fuel jerry cans, with blackout lights, and a GPS system.