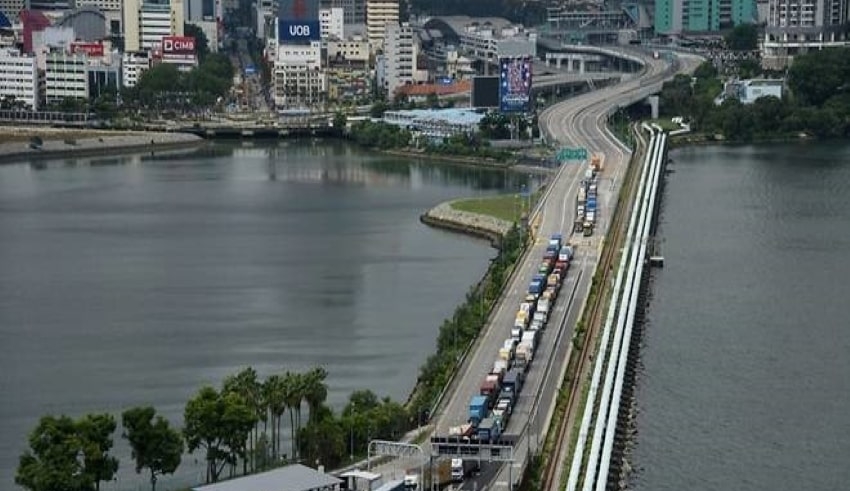 SINGAPORE: On Friday (January 22) cargo drivers from Malaysia transporting critical goods to Singapore said they faced delays at land entry checkpoints, on the first day mandatory COVID-19 tests were enforced by the Singapore government.
On Thursday, the Ministry of Trade and Industry of Singapore (MTI) announced that COVID-19 antigen rapid testing would be gradually rolled out for cargo drivers entering Singapore from Malaysia via the Tuas and Woodlands checkpoints from 9 a.m. on Friday, and drivers would need to test negative before they could enter Singapore.
Usually, the antigen rapid tests return results within half an hour.
Drivers interviewed by reporters said they encountered more congestion at the checkpoints than normal, resulting in their distribution routes being delayed.
Vegetable wholesalers operating in Pasir Panjang, dealing directly with Malaysian truck drivers, told reporters that the congestion at the checkpoints could have an effect on the quality of some goods and on retailers' delivery schedules.
MTI recognized the importance of ensuring the smooth flow of critical goods between the two countries in its statement on Thursday.
"We acknowledge the importance of ensuring the smooth passage of goods between Singapore and Malaysia and appreciate the important role of cargo drivers and accompanying personnel," the statement said.
"We will ensure smooth operations at the checkpoints to minimise disruptions to deliveries and supply chains. Businesses expecting deliveries are encouraged to maintain close communication with their logistic providers and cater for possible delays."
MTI also highlighted the need for firms, freight drivers and accompanying staff to continue to comply with safe management steps, including contactless delivery, mask wearing and safe distancing.
Cargo drivers told reporters that to identify themselves, they had to wear wristbands and were equipped with a global positioning system (GPS) unit in their cars. They were told not to mingle at the distribution centres with wholesalers or retailers.