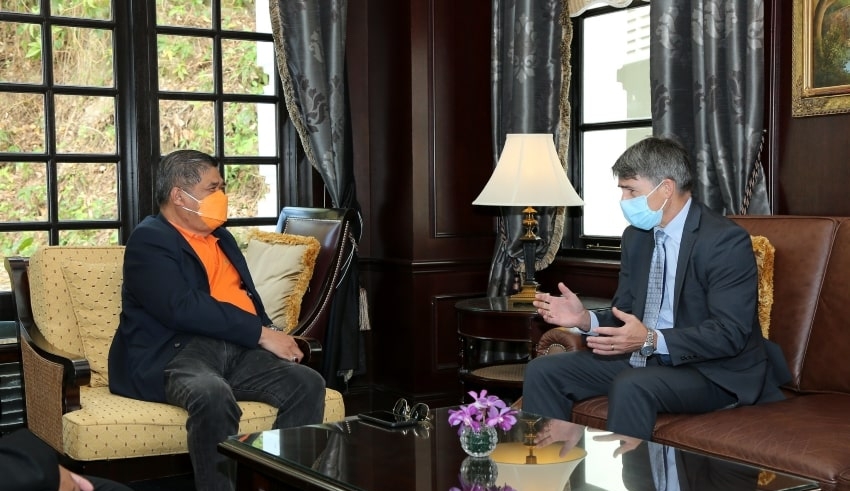 (C) usembassykl / Twitter
Malaysia – Mohamad Sabu, the head of the Parti Amanah Negara, stated that the PKR and Amanah would each compete 20 seats in the forthcoming Johor state elections, while the DAP will seek 16 seats in the state elections.
In a news conference held recently in Permas Jaya, Johor, Mohamad, also known as Mat Sabu, said that the decision on seat distribution was finalized on Tuesday during the Pakatan Harapan (PH) presidential council meeting.
He said that the selection of candidates was nearing the conclusion of deliberations.
According to reports, he also noted that the three parties will meet again to finalize the distribution with other parties who wish to compete against Pakatan Harapan, such as Muda, Pejuang, and Warisan, after that.
He went on to say that the Johor PH will make a formal announcement after all of the details had been worked out.
Related Posts
In seats with a mixed racial makeup, the PKR and Amanah would compete, while the DAP would concentrate its efforts in urban areas.
"As of yet, there have been no calls from other parties, including PN, to form an alliance with PH in the elections," he said at a press conference.
Meanwhile, when asked about the decision of the PH presidential council to allow PKR to use its own emblem in the election while Amanah and DAP use the PH logo, he said that it was not a problem.
"Since 1990, the Opposition has used a variety of logos in general elections, with the 14th general election being the first time the same emblem was used," he said.
Rumours of a sudden state election in Johor began to circulate immediately after the death of Datuk Osman Sapian, a member of the Parti Pribumi Bersatu Malaysia who served as the Kempas assemblyman.
As a result of his death, the present state administration in Johor was reduced to a one-seat majority in the state parliament. His party is a member of the governing the PN coalition.
Hasni has a razor-thin majority of 28 seats, with BN having 16 seats, followed by Bersatu with 11 seats and PAS with one.
The Pakatan Harapan (PH) coalition controls 27 seats in the state legislature, which includes the DAP with 14 seats, Parti Amanah Negara with 6, and the PKR alliance, having 7.