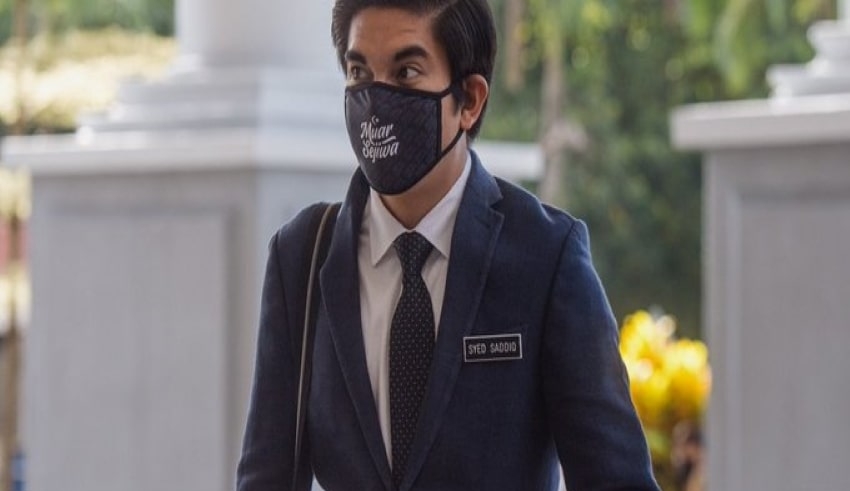 Malaysia – High Court Judge Mohamed Zaini Mazlan today warned Muar Member of Parliament Syed Saddiq Syed Abdul Rahman to be more cautious while making public remarks on his court case yesterday on social media.
When giving a statement, the former Youth and Sports Minister should distinguish between his roles as a politician and an accused, according to the court.
He remarked yesterday during the case's first mention hearings at the High Court that he appreciate his dilemma in certain ways, but he has to separate his hats, from being a politician and someone accused. He also said that he is the confident lawyer will be able to advice him on what to do in relation to his social media posts from time to time.
Judge Mohamed Zaini issued the advice after Malaysian Anti-Corruption Commission (MACC) deputy public prosecutor Wan Shaharuddin Wan Ladin reminded Syed Saddiq to use caution when making statements on social media about criminal breach of trust (CBT), money laundering, and misappropriation of funds charges.
He said that Syed Saddiq should not make a statement to defend himself against the accusations until the case is tried.
He noted that this is not a gag or ban order, but rather advise from someone more mature than the accused. Previously, there were multiple updates on his Facebook on the progress of this case. and he had made his case.
He went on to say that he is only urging the accused to be extra cautious since the defense he wrote on Facebook might be used against him.
Counsel Gobind Singh Deo, who represents Syed Saddiq, said he took notice of the judge's words, but that his client should be allowed greater leeway in explaining the matter to the public.
Related Posts
The court also appointed 22 days for the case to be heard today, from June 7 to 10, June 20-22, June 27 and 28, as well as July 4-8, July 13-15, and July 18-22.
Earlier, Syed Saddiq, 29, maintained his not guilty plea to charges of criminal breach of trust (CBT), misappropriation of funds, and money laundering, which were read out before Judge Mohamed Zaini on November 25 last year, following the court's decision to allow the MP's application to transfer the case from the Sessions Court to the High Court.
Syed Saddiq, 28, was charged on the CBT charge in his capacity as then-Angkatan Bersatu Anak Muda or Armada, the youth wing of Parti Pribumi Bersatu Malaysia (Bersatu) chief, who was entrusted with Armada's fund and committed the offence by withdrawing RM1 million from the fund via a CIMB Bank Berhad cheque without the permission of the party's (Bers
He was accused of committing the offence on March 6, 2020, at CIMB Bank Berhad, Menara CIMB KL Sentral, Jalan Stesen Sentral 2, here, in violation of Section 405 of the Penal Code and punishable under Section 406 of the same law, which provides for imprisonment for up to ten years with whipping and a fine if found guilty.
Syed Saddiq was also accused with abusing RM120,000 in GE14 campaign donations obtained via a Maybank Islamic Berhad account owned by Armada Bumi Bersatu Enterprise at Maybank Islamic Berhad, Jalan Pandan 3/6A, Taman Pandan Jaya between April 8 and 21, 2018.
If found guilty of the crime, which is defined in Section 403 of the Penal Code, he faces up to five years in jail with whipping and a fine.
He was additionally charged with two charges of money laundering, namely two transfers of RM50,000 from his Maybank Islamic Berhad account into his Amanah Saham Bumiputera account at a bank in Jalan Persisiran Perling, Taman Perling, Johor Bahru on June 16 and June 19, 2018. The charges were laid under Section 4 (1) (b) of the Anti-Money Laundering, Anti-Terrorism Financing, and Proceeds of Unlawful Activities Act 2001, which is punishable under Section 4 (1) of the same act, which provides for a maximum sentence of 15 years in prison and a fine of not less than five times the amount or proceeds of illegal activities