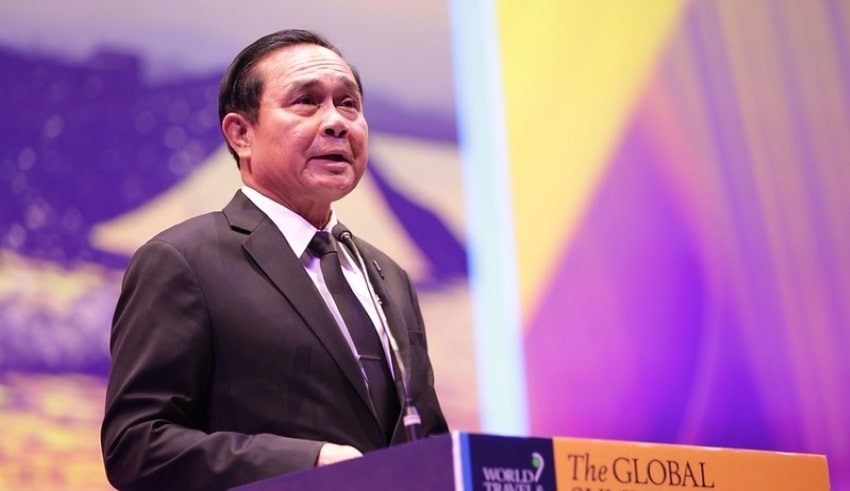 (C) Flickr, World Travel & Tourism Council
Prime Minister Prayut Chan-o-cha warned that if the anti-government demonstrations continue, the country will miss an chance to move forward.
Speaking after the cabinet meeting on Tuesday, Gen Prayut said the organizers of the demonstrations had already made their true intentions clear, and that the people had to judge for themselves.
The Unified Front of Thammasat and Demonstration (UFTD), with its 10-point roadmap, including demands for restructuring of the monarchy, led the Saturday rally at Sanam Luang. Commenting on the intention of student protestors to meet outside parliament again tomorrow, Gen Prayut said it should be left to the local authority to enact the law to deal with protestors, adding that no one is in dispute with the government.
The Metropolitan Police Bureau (MPB) is considering some cases against the 16 organizers of last weekend's anti-government protest. On Tuesday, Pol Maj Gen Sukhun Prommayon, Deputy Commissioner of the MBP, said that charges would be filed against 16 main protesters in three groups: those who planned the demonstration without permission; those who invited others to join in the demonstration across all channels; and those who spoke from the demonstration point.
The Bangkok police have also taken legal action against protesters who on Sunday placed a pro-democracy plaque on the ground at Sanam Luang.
This will include a lawsuit lodged under the Ancient Monuments, Antiques and National Museums Act by the Fine Arts Department, which forbids any alteration to a heritage area, Pol Maj Gen Sukhun said. The ancient monuments include Sanam Luang,
On Sunday night, the plaque was dug up and destroyed. No one has admitted that they see who did so. Parliament President Chuan Leekpai, meanwhile, said the alliance, opposition and Senate whips were meeting on Tuesday. It was decided that each party would have a total of seven hours and 20 minutes to discuss draft amendments to the Charter, which would last from today until no later than midnight tomorrow, where each motion would be voted on.
The leader of the coalition whips, Virat Rattanaset, said the six bills would be discussed at the same time. On any request, the three parties are yet to address their positions. Of the six bills, one is by Pheu Thai, the other by majority parties, and four by minority parties.
In view of this, a non-profit group, the Internet Law Reform Dialogue (iLaw) presented to Mr. Chuan what it called the constitutional amendment bill of the people, supported by more than 100,000 who signed up to support it.
Members of iLaw and its allies took a one-hour walk from MRT Tao Pun station to parliament on Kiak Kai Road to present their bill, bringing five carts loaded with forms signed by 100,732 individuals. Mr Chuan said that it was too late for the bill to be put on the agenda of the board.
Related Article: https://www.theasianaffairs.com/thailand/2020/09/16/a-police-special-task-to-protect-govt-house-from-demonstrators/