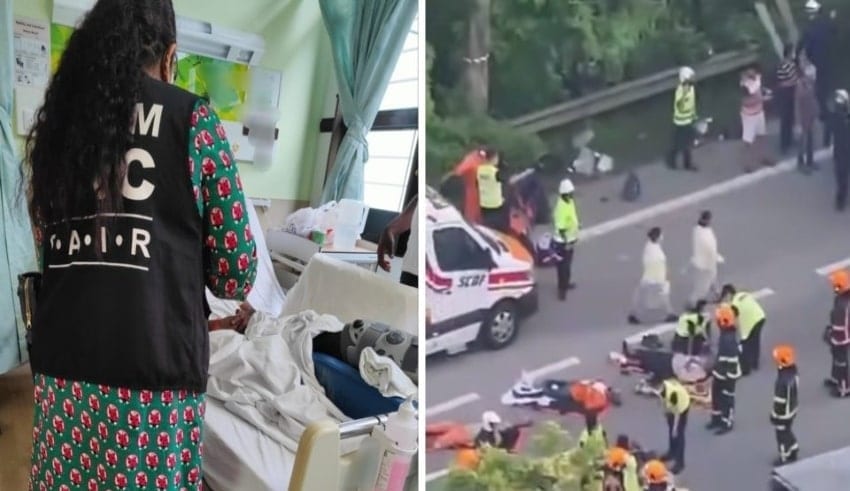 According to the Migrant Workers' Centre (MWC), a second migrant worker has gotten into an accident in the Pan-Island Expressway (PIE) where he dies after sustaining serious injuries.
The accident involving a stationary tipper truck and a lorry carrying 17 workers in the cargo deck occurred around 6am near the Jalan Bahar exit.
Related Posts
The 33-year old Tofazzal Hossain who was from Bangladesh died from his injuries on that day while the other workers involved in the accident were being treated in the National University Hospital and Ng Teng Fong General Hospital.
Nine of the workers were allowed to get discharged on the same day while the other seven are still receiving treatment. Two workers were put in the intensive care unit (ICU).
The MWC said that they already reached out to the deceased worker's family to extend their assistance and deepest condolences. The worker's mother which is also working in
Singapore was the one who received the call about the worker's passing.
"We will also be working with the employer to furnish the documentation and claims needed to file for the Work Injury Compensation Act compensation." MWC said.
The driver of the lorry which is 36 years old has been arrested due to irresponsible driving which has resulted to fatalities and death. This accident has called for the development of the safety measures to be taken for the lorry passengers as well as banning the practice of ferrying workers with lorry entirely.
MWC has released an update on their Facebook page saying that one worker has been discharged and another one has been taken out of the intensive care unit (ICU) and moved into the hospital's high dependency unit while four other workers are still recovering in the hospital ward. "The MWC was able to speak with all of them to see how they are coping and send them our well-wishes. The workers shared with us that the company has spoken to them and assured them that they would be taken care of," the centre said.