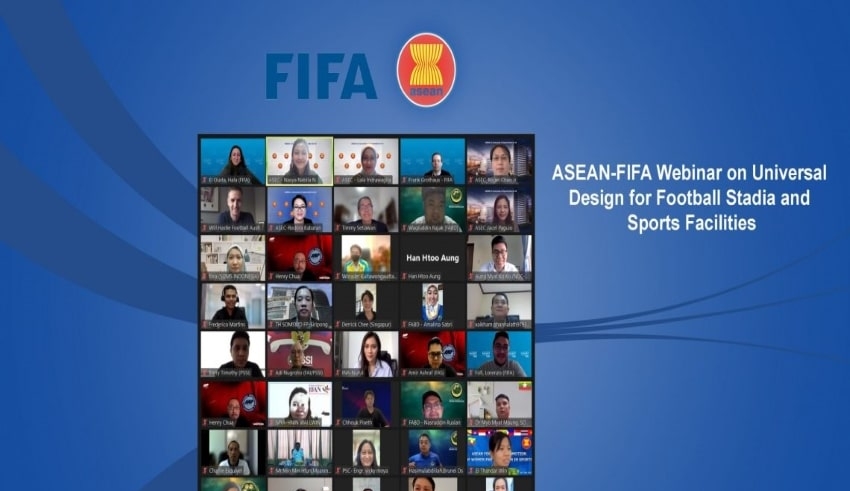 ASEAN – On the 2nd of March, sixty participants from ASEAN Member States convened electronically for the ASEAN-FIFA Webinar: Universal Design for Football Stadia and Sports Facilities, which included a mix of FIFA member associations, government officials, and sports practitioners.
The webinar served as a forum for promoting accessible access for handicapped persons to football stadiums and sports facilities, as well as gathering comments on how football associations and relevant authorities might work together to implement universal design in their individual venues.
Attending athletic events and other sporting activities is an important part of ASEAN culture and tradition. The webinar stated the opinion that sport should be open to everyone and that all athletic venues should be accessible to everyone. As a result, design and planning procedures are becoming increasingly important. Rodora T. Babaran, Director of Human Development for the ASEAN Socio-Cultural Community Department, stated that ASEAN has seen an increase in interest in hosting big sporting events, which may help the region's socio-economic growth.
Related Posts
A presentation on Mainstreaming the Rights of Persons with Disabilities was given by Jacel Paguiao, a representative of the ASEAN Secretariat's Poverty Eradication and Gender Division. FIFA's Standards & Requirements for Events were delivered by Hala Ousta, FIFA's Accessibility & Diversity Manager.
Timmy Setiawan, an architect with Unitri Cipta Consultant, spoke about his experience with universal design in Indonesia, including the Lukas Enembe Stadium in Papua, the Manahan Stadium in Solo, and the soon-to-be-opened Jakarta International Stadium, as part of the FIFA U-20 World Cup Indonesia 2023 preparations.
Later, participants and speakers discussed how to meet minimum standards with limited resources, how organizers can promote disabled people's participation in sports events through outreach activities, and the importance of involving disabled people in the venue design process to test the level of accessibility and safety.
This effort is part of the ASEAN-FIFA Collaboration Plan 2021-2022, which was approved by the ASEAN Ministerial Meeting on Sports and helps to execute the ASEAN Work Plan on Sports 2021-2025.