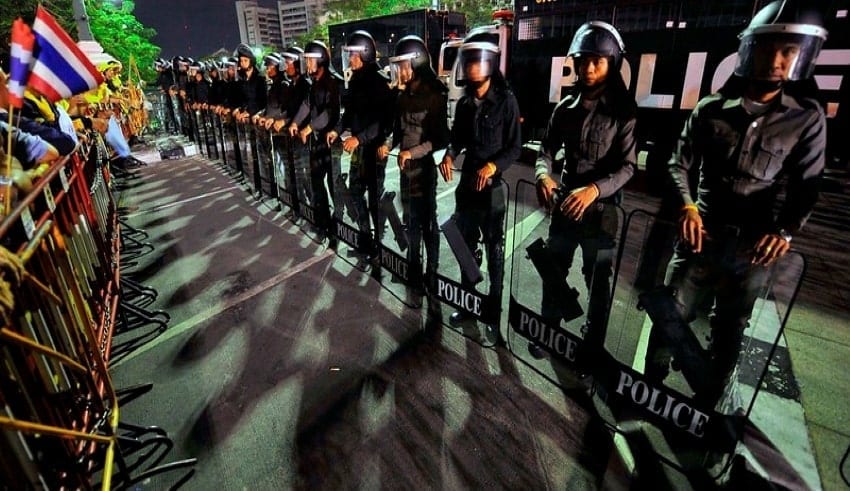 It's surprising that the Police use water cannon to fire tear gas solution at protesters attempting to cut outside parliament erected via razor wire. In view of this, The line of concrete barriers and razor wire installed near the Bang Krabue intersection in front of the parliament in Dusit district at around 2.30 pm was reached by a group of protesters wearing helmets and other defensive gear. They then managed to cross the barricade, tossing smoke grenades and bags of paint on the other side at riot police line.
In order to drive them out the police used a water truck to fire salvos from water cannons. Police sought to open talks with a leader of the advancing men after the brief altercation concluded, who evidently acted as an advance guard for the demonstrators.
#Thailand protest now downtown #Bangkok, 2nd day of protests despite getting fired with water cannons & tear gas on Tues. Been here for more than 2 hrs now. Without fail every protest they seem to acknowledge national anthem in own way #ม็อบ18พฤศจิกา #whatishappeninginthailand pic.twitter.com/jePNCeU9WI

— May Wong (@MayWongCNA) November 18, 2020
The deputy police spokesman, Pol Col Kissana Phathanacharoen shared that the police had warned protesters not to break the barricades. When they didn't back off the police fired four water gun rounds.
The three first rounds were made up of pure water. He said that when that failed to stop the protesters, police then used the water gun to discharge a substance that contained a cure for tear gas. Rally leaders earlier revealed a decision to sit in parliament overnight while waiting for MPs to approve a suggested constitutional amendment drafted by the Internet Law Reform Dialogue (iLaw) civil society for deliberation. It was one of seven drafts sent to parliament for charter amendment, with other drafts supported by governments and minority parties.
Parliament finished the discussion on an amendment to the Constitution. Before deciding on whether to approve any of the preliminary drafts for deliberation, senators are scheduled to debate the issue for two days.