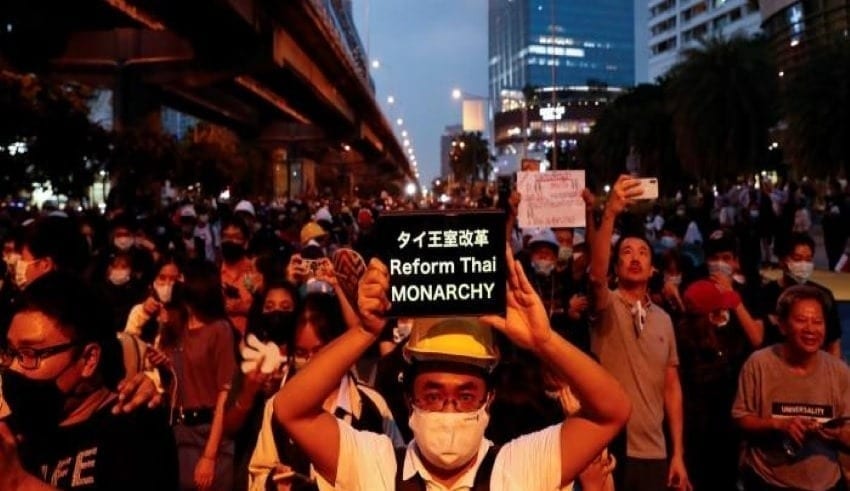 Last updated on October 28th, 2020 at 01:48 pm
Through holding a mass rally in front of the German embassy in Bangkok, anti-government protesters placed further pressure on Prime Minister Prayut Chan-o-cha.
The move came after Gen Prayut refused the deadline for the protesters to demand that he resign by Sunday evening. The demonstrators marched and sent a petition to the embassy.
In view of this, The pro-democracy movement assembled at the Samyan intersection and began marching on Rama IV Road to the Sathon Road embassy. Before calling off the protest, the crowd entered the embassy and submitted their petition to embassy staff.
The German embassy, in a letter posted online under its official letterhead, stated that it acknowledged the right of the demonstrators to assemble peacefully and appreciated the security of the embassy by the Foreign Ministry under Article 22 of the Vienna Convention on Diplomatic Relations.
Suvit Thongprasert, formerly known as Luang Pu Buddha Isara, a co-leader of the People's Democratic Reform Committee (PDRC), led a group of ultra-royalists in another development to petition House Speaker Chuan Leekpai against any effort to create a House Monarchy Reform Committee.
The PDRC was a coalition that rallied against the government headed by the Pheu Thai Party, which was then overthrown by the military coup of 2014.
Mr Suvit shared that the parliament could never consider the proposal of the protesters to reform the monarchy because His Majesty the King will not be able to protect himself against the demands of the movement in parliament.
Read Also | Plot Twist: Activists are Excpected to Organize an Unprecendented Petition
He also urged all followers of the royal institution to come out to defend it, saying they should come to demonstrate their support at a big gathering scheduled on the 5th of December. In several parts of the country, activities organized by supporters of the monarchy were registered.
In Songkhla, for the third consecutive day, Natthachai Likhittrakankun, owner of the Hat Yai sportswear store, gave away yellow shirts with screen-printed text reading "Together to Defend the Monarchy".
In addition, more than 4,000 individuals, led by Muang Krabi Mayor Kiratisak Phukaoluan, gathered in Krabi to demonstrate their allegiance to the monarchy. In the northeastern province of Bung Kan, over 1,500 yellow-clad supporters also gathered to show their support for the Royal Institution.