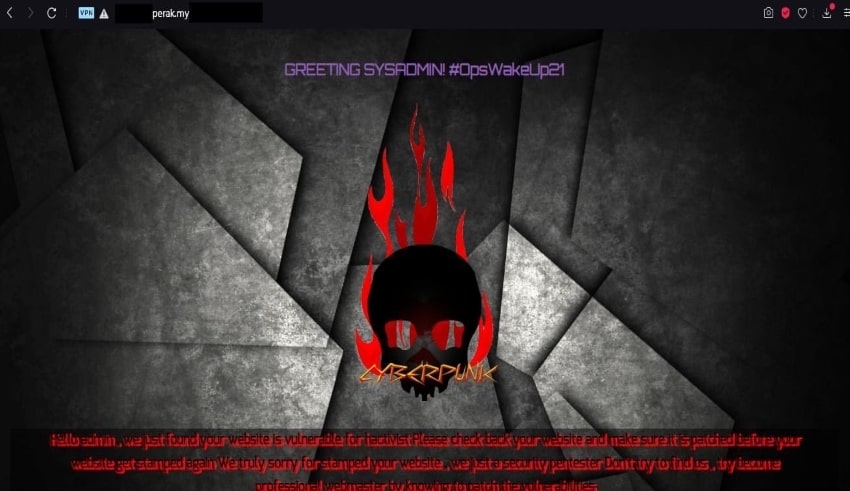 Late last night, the "Anonymous Malaysia" group of hackers declared that they had defaced five government websites, including that of the state of Perak.
The so-called hacker-slash-activist group posted screenshots of the government pages it attacked, replaced by a skull on fire graphic with the word 'cyberpunk,' around a week after warning the Malaysian government of its supposedly poor cybersecurity.
Amaran Anonymous Malaysia bukan main main, beberapa website kerajaan dah kena hack sejam yang lepas. pic.twitter.com/iYu6InexJ6

— Kiff 🇲🇾 (@iffgone) January 31, 2021
"Hello admin, we just found your website is vulnerable for hacktivist," texts on the defaced pages said. "Please check your website and make sure it is patched before your website get stamped again. We are truly sorry for your stamped website, we are just a security pentester. Don't try to find us, try become professional webmaster by knowing to patch the vulnerabilities."
In the event of site administrators having to reach them, an email address was written at the top.
Those belonging to the Sabah and Perak states, the website for the Selayang district in Selangor province, as well as the Malaysian customs authorities and the Development Board of the Construction Industry were the websites it said it had targeted.
Last week, the National Security Council said it had informed all government agencies after the group's Tuesday alert to be ready for any possible cyber attacks.
When Coconuts checked this morning, all of the targeted websites looked fine, although those by the Sabah government and customs authorities suggested it was not safe.
The Malaysian Commission for Communications and Multimedia did not respond immediately to the request for comment made by Coconuts.
The National Security Council (MKN) issued an alert to all government agencies to plan for, deter and mitigate the effect of the cyber attack, after Anonymous Malaysia released their video threatening to hack into government websites on 25 January.
MKN said that the government very seriously takes risks to the "critical systems" of the nation and government IT infrastructure, adding that it has outlined measures to improve government IT systems, including strengthening its staff's skills. MKN has reportedly coordinated efforts to prepare for cybersecurity attacks with the National Cyber Security Agency (NACSA) and the police.