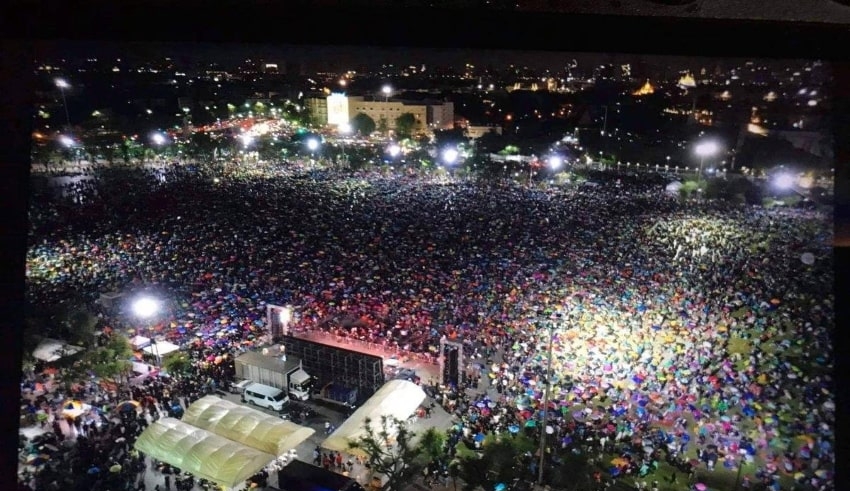 (C) oshuawongcf / Twitter
In mid-October, democracy activist Arnon Nampha called for a major and lengthy street rally to bring pressure on the government to amend the constitution. Mr. Arnon, an attorney, made the call in a speech at a rally attended on Sunday night by members of several pro-democracy organizations at a public park near the city gate, off Mitraparp Highway, in Nakhon Khon Kaen Township.
They included Anusorn Unno, an associate professor at the Thammasat University Faculty of Sociology and Anthropology, representing a group advocating for the constitution of the people; Rangsiman Rome, a Step Forward Party MP; and Jatupat Boonpattaraksa, aka Pai Dao Din, a human rights activist.
Mr. Rangsiman apologized to individuals from Khon Kaen who went to the rally in Bangkok on September 23-24 for being unable to force through parliament a constitutional reform bill. The new constitution, as one of the cabinet members said, was built for them to remain in power for a long time, making it difficult or even impossible to amend.
Mr Arnon said he was disappointed that not a single constitutional amendment bill was approved by Parliament for consideration on Sept 24. Instead, the parliament's joint sitting voted to stall the process and set up a committee to review the six bills. He staed that their dream of seeing the constitution revised through the networks of parliament has almost gone. The only way they can do it now is to take to the streets.
They need to push a large number of people for reform. It's no use arguing about a legislative mechanism, because they're  not with senators. But next time, a large number of people will be a deciding factor.
Related Article: https://www.theasianaffairs.com/thailand/2020/09/18/up-to-20000-at-rallies-security-agencies-predict/