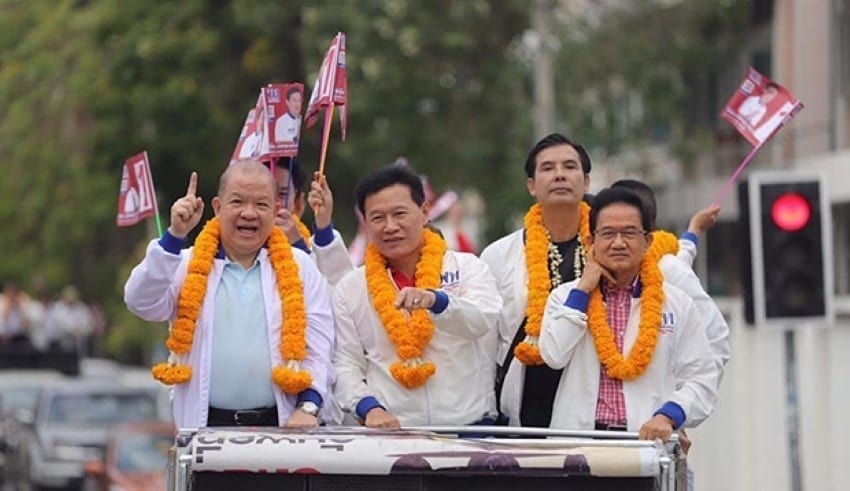 The Pheu Thai Party's Pichai Lertpongadisorn was surprisingly elected chairman of the Provincial Administration Organization of Chiang Mai defeating his nearest competitor and old friend Boonlert Buranupakorn in the recent voting, according to an unofficial count of votes.
Both Mr. Pichai and Mr. Boonlert, the current Chairman of the PAO, were once old mates and camp members loyal to Thaksin Shinawatra, the ousted Prime Minister.
However, the two contested for the provincial chairman's post in this election with Mr Pichai standing under the Pheu Thai banner and Mr Boonlert leading a party faction backed by Chatuporn Promphan, chief of the United Front for Democracy against Dictatorship. Mr Pichai finished first with 421,426 votes, according to an unofficial count, led by Mr Boonlert with 353,010 votes.
In each of the 42 districts of Chiang Mai, Pheu Thai candidates to become members of the PAO council claimed to have won. The director of the Chiang Mai Election Committee, Kriangkrai Pandokmai, stated that he was waiting for the unofficial results and turnout estimates from all 3,131 polling stations in the northern province. He will then write for the Election Commission a detailed report.
Morever, in each PAO the regional elections, the first since the military coup in May 2014, were for the chairman and council members and boosted hopes for the decentralization of power in Thailand. Although each province's governor is appointed by the Ministry of the Interior, all provincial officials are chosen.
Looking back, voters around the region, with the exception of Bangkok and Pattaya, will be able to elect municipal officials, the first glimmer of hope in six years for decentralisation. The appointment of chief executives of regional administrative organizations (PAOs) and presidents of PAO councils will take place in polls in 76 provinces.
For the Election Commission (EC), 335 candidates have applied for the rank of chief candidate of the PAO and 8,186 are seeking seats on the Council. Buri Ram saw eight for leader and 344 for the council, the most contestants. The fewest contestants for Phetchaburi are one and 33, respectively.