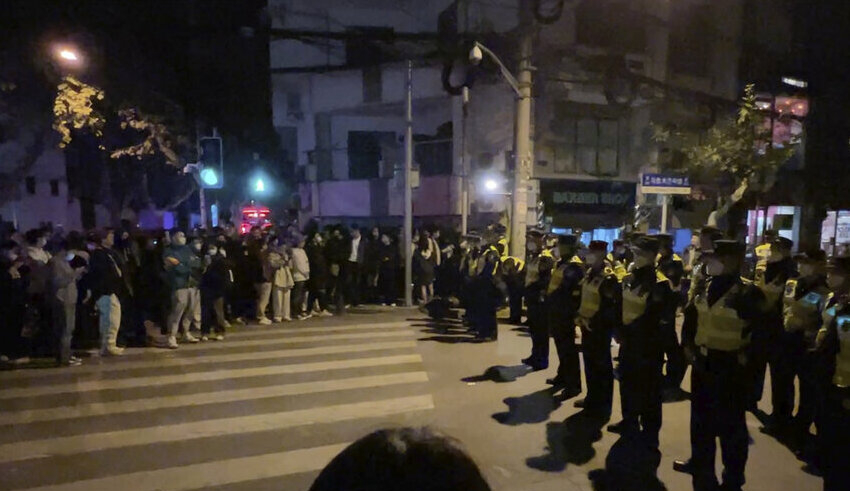 (c) Christian Science Monitor
In a show of sympathy with rare demonstrations of disobedience in China over the weekend, protests against China's stringent zero-COVID policy and limits on liberties have spread to at least a dozen locations worldwide.
Students and expatriate dissidents have organized small-scale vigils and rallies in cities in Europe, Asia, and North America, including London, Paris, Tokyo, and Sydney, according to a Reuters tally.
The tally revealed that the majority of protests drew dozens of individuals, but a few drew more than 100.
The gatherings are a rare instance of domestic and international Chinese coming together in indignation.
The demonstrations on the mainland were sparked by a fire in China's Xinjiang region that killed ten people who were trapped in their apartments and was partially attributed to lockdowns. City officials refuted the claim.
Since President Xi Jinping's ascension to power a decade ago, civil society, the media, and the internet have been subjected to severe repression.
However, the stringent approach aimed at eradicating COVID through lockdowns and quarantine has become a source of frustration.
The program has maintained China's death rate significantly lower than that of many other nations, but at the expense of lengthy incarceration for millions and harm to the world's second-largest economy.
However, according to Chinese officials, it must continue in order to save lives, particularly among the elderly due to their poor immunization rates.
Some abroad protestors stated that it was their turn to shoulder a portion of the load their families and friends had been carrying.
"It's the right thing to do. When I watched so many Chinese residents and students take to the streets, I felt they had taken on so much more than we had," said doctoral student Chiang Seeta, one of the organizers of a Sunday demonstration in Paris that drew approximately 200 people.
Keep Reading
"We are now providing them with international help," added Chiang.
A representative for the Chinese foreign ministry stated at a Monday press briefing that China was unaware of any international rallies demanding an end to the zero-COVID policy.
China's state media and government spokesmen have not issued an official statement regarding the country's protests.
In recent years, it has been customary for Chinese students studying abroad to assemble in support of their government against its detractors, while anti-government demonstrations have been uncommon.
Some demonstrators carried flowers and lit candles in front of the Pompidou Centre in Paris for the victims of the fire in Xinjiang.
Some held President Xi Jinping and the Communist Party accountable and sought their ouster.
Since a dissident hanged a banner on a Beijing bridge last month ahead of a Communist Party Congress, denouncing Xi for clinging to power and the zero-COVID policy, defiance towards Xi has been increasingly visible.
On Sunday, over 90 individuals gathered outside Shinjuku, one of Tokyo's busiest train stations, including a university student from Beijing who asserted that any protests in China against COVID restrictions would unavoidably place the blame on the Communist Party.
"At its root is China's system," said Emmanuel, a student who wished to remain anonymous.
However, some demonstrators were uneasy with more aggressive slogans.
Shawn, the organizer of a protest scheduled for later Monday at Columbia University in New York, said she would avoid touchy topics such as calls for Taiwan independence and China's incarceration of ethnic Uyghurs en masse in Xinjiang.
"We've had conversations with activists from Taiwan and Xinjiang… We've promised not to do that," Shawn from the Chinese city of Fuzhou remarked.
We are aware that this may alienate many individuals.