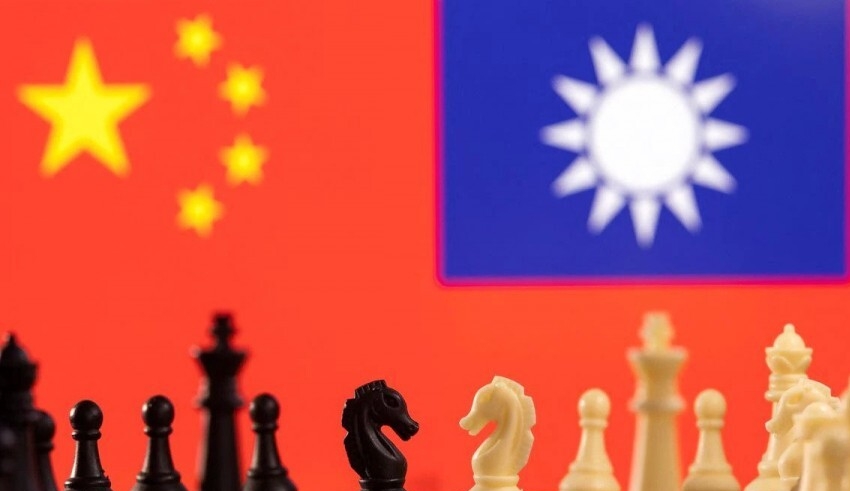 (c) The Financial Express
In August, when Chinese authorities detained a Taiwanese citizen in China for an alleged violation of security rules, officials in Taipei wrote signals to Beijing expressing concern and requesting specifics.
According to a Taipei-based individual familiar with the Taiwanese government's China policy, many of the SMS and faxes that Taiwan's Mainland Affairs Council has delivered to Beijing's Taiwan Affairs Office over the past six years have gone unanswered. "They disregarded us," the individual stated.
China ceased formal high-level communication with Taiwan's government in 2016 after the island's voters elected Tsai Ing-wen, a separatist according to Beijing. Since the visit of US House Speaker Nancy Pelosi to Taiwan in August, however, Chinese jet fighters have been conducting near-daily maneuvers around Taiwan, causing some security experts to worry that the official silence poses problems when the two forces are in close contact.
"The lack of communications targeted at regulating the relationship is concerning," said Bonnie Glaser, a security expert with the German Marshall Fund of the United States based in Washington. There is a possibility of misinterpreting each other's intentions and consequent miscalculation.
Existence of a communications channel is a vestige of a more friendly phase in cross-strait ties under former Taiwanese leader Ma Ying-jeou, who visited with Chinese President Xi Jinping in 2015 and negotiated economic and commercial agreements.
In recent years, however, the ministerial hotline has been inactive as Beijing has increased its military power and escalated threats to bring Taiwan under its authority by any means necessary. The channel continues to be a forgotten route via which officials may defuse tensions in an emergency or arrange discussions between the Chinese Communist Party and the Tsai government.
Alexander Huang, who was deputy minister of Taiwan's Mainland Affairs Council in 2003-2004 and now serves on its advisory board, stated, "Since she took office, the phone has never rung."
"The communication line is of the utmost importance when tensions are rising," said Huang, the chief representative in the United States for Taiwan's major opposition party, the Kuomintang.
Tsai, who was elected on a promise of safeguarding Taiwan's sovereignty, has proposed negotiations with Beijing based on equality and mutual respect. China has rejected her because Tsai refuses to recognize the "1992 consensus," which considers Taiwan and China to be part of a single China but leaves room for interpretation on each side.
Keep Reading
As cross-strait tensions have increased, the absence of discussion has become increasingly worrisome, according to Jacob Stokes, a senior scholar at the Center for a New American Security.
"We need to prepare the off-ramps in advance, because if we get into a crisis and there are no off-ramps, then a very deadly situation – even more dangerous than it is presently – may develop," said Stokes, naming crashes and the downing of a plane as potential flashpoints.
Taiwan and China do not have embassies in the capitals of one another. In 1949, after Mao Zedong's communists won the Chinese civil war and formed the People's Republic of China, neither nation recognizes the government of the other. Taiwan rejects China's assertions of sovereignty and pledges to safeguard its independence and democracy.
Beijing "put up political preconditions that impede formal contacts" after Tsai entered office, Taiwan's Mainland Affairs Council told Reuters, although Taiwan has continued to send messages through current channels.
The Taiwan Affairs Office of China declined to comment in response to a request.
Mutual mistrust extends down the hierarchy. Some Taiwanese officials who work on China policy have the mobile phone numbers of their Chinese colleagues, but according to a person acquainted with Taiwan's China policy, these numbers have been "cold hotlines" since 2016.
"They won't respond regardless. What is the purpose?" The call would connect, but Chinese officials would not answer, the individual added. "It is impossible to rouse someone who is pretending to be asleep."
Nonetheless, on an operational level, the two parties remain in contact regarding regular things such as transit, customs, and requests for personal help. Taiwan's Straits Exchange Foundation and China's Association for Relations Across the Taiwan Strait continue to exchange faxes in accordance with a long-standing custom. both organizations handle routine matters.
The council told Reuters that although Chinese authorities do not directly respond to Taiwanese requests, they have handled them when necessary or responded through public remarks.
There are also third-party channels that include businesses, scholars, and journalists. One chat group on the Chinese smartphone WeChat has over 100 intellectuals, one-third of whom are Taiwanese and two-thirds of whom are Chinese. While their interaction persisted throughout the Pelosi difficulties, according to a member of the group, "it has no weight" and no one is permitted to comment formally.
China is Taiwan's most important trading partner, and hundreds of thousands of Taiwanese are employed there. Due to the extensive business ties across the Taiwan Strait, some entrepreneurs maintain regular contact with officials on both sides.
At higher levels, however, communication is limited to news conferences, which can devolve into an exchange of insults. This year, China referred to Tsai's administration as "evil," while Taiwan referred to China as "very silly."
In August, Andrew Hsia, the vice chairman of the Kuomintang, traveled to China and met with a vice director of the Taiwan Affairs Office. This was the last recorded face-to-face communication between top individuals from both sides.
The Taiwanese government condemned the trip, but the Kuomintang argues that such outreach is more important than ever.
"Sometimes, it's a necessary inconvenience," said Huang, adding that opening communication channels between Taipei and Beijing could better understanding of each other's objectives and aid in defusing possible crises.
Certain security specialists warn that communication has limitations.
"The bottom line is that China escalates if it wants to wage war. If China does not want a war, it does not escalate," said Oriana Skylar Mastro, a fellow at the Freeman Spogli Institute for International Studies at Stanford University. You will not enter into a war by accident.
"Chinese diplomatic channels are not being used to negotiate compromises," said Drew Thompson, a former US defense official who is now a professor at Singapore's Lee Kuan Yew School of Public Policy.
"Under Xi Jinping, they are being utilized to issue directions and instruct other nations on how to maintain good relations with China. Only Xi's way is acceptable."