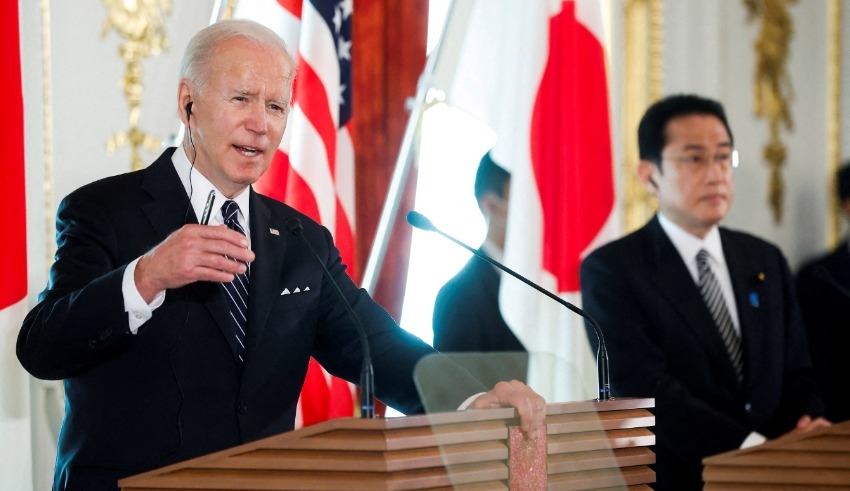 A possible shift in US policy to support Taiwan's right to self-determination was alluded to by President Joe Biden, but it was overshadowed by his promise that American forces would defend Taiwan against an invasion by the Chinese government, which grabbed all of the headlines.
Despite the fact that the White House has made it clear that President Biden's most explicit statement to date about defending the island, which was made during an interview that was broadcast on Sunday (September 18), did not signify a policy change, some analysts believe that he may have undermined – either intentionally or unintentionally – a United States position of not taking a position on Taiwan's independence.
Xi Jinping, the current leader of China, has long promised to bring Taiwan under Beijing's control and has not ruled out the use of force to accomplish this goal. Taiwan has voiced its vehement opposition to China's claims but maintains that it does not need to formally declare its independence because it is already a sovereign nation.
This year, senior officials in the United States government, such as Secretary of State Antony Blinken and Secretary of Defense Lloyd Austin, have repeatedly said that the United States does not endorse Taiwan's independence.
Their guarantees are a part of a non-committal policy that has been strictly adhered to over the course of several decades in order to prevent Beijing from launching a strike without provocation and to urge Taiwan not to make a formal declaration of independence. In the lingo of Washington, this strategy is referred to as "dual deterrence."
But Biden stated in an interview with CBS 60 Minutes that even while he does not support the move, it is ultimately up to Taiwan to make such a decision.
"Taiwan is responsible for its own decisions about its level of independence. We are not in any way trying to encourage them to be independent. That's up to them to decide," Biden stated.
Related Posts
The president's detractors say that China may see his statements as implicit backing for a declaration of independence, which would cross a red line for Beijing. They also claim that Biden's words are more likely to worsen tensions than overt defense promises because Beijing probably already understands that the United States will defend Taiwan and Beijing presumably believes that the United States will defend Taiwan.
According to Craig Singleton, an expert on China policy at the Foundation for Defense of Democracies, "it is incoherent to argue that America's Taiwan policy has not changed while also claiming that the US has a commitment to fight for Taiwan and that Taiwan makes its own judgments about independence." He also mentioned that Beijing will probably be concerned since Biden is implying that Taiwan may decide for itself whether or not it is independent.
White House Indo-Pacific coordinator Kurt Campbell told a forum on Monday that the president's comments "speak for themselves." This came after some Republicans, including Senator Ben Sasse, praised the president's comments but criticized the White House for walking them back. Campbell's comments came after Sasse had criticized the White House for walking them back.
Adrienne Watson, a spokesperson for President Joe Biden's National Security Council, stated that "the president expressly restated the United States' longstanding one China policy."
Viktorija Cmilyte-Nielsen, the visiting speaker of Lithuania's parliament, told Reuters that Biden's words were "important and timely." This is just one example of how President Biden was able to win support from countries who are allies of the United States.
In response to the comments made by President Joe Biden, Taiwan's Ministry of Foreign Affairs issued a statement expressing its "sincere appreciation" for his unwavering support of the island.
Liu Pengyu, a spokesperson for the Chinese Embassy in Washington, stated that the United States should take care not to give the incorrect signal to Taiwan's separatist groups, as this might threaten the peace across the Taiwan Strait as well as China's relations with the United States.
According to Jude Blanchette, a specialist on China at the Center for Strategic and International Studies think tank, the comments made by President Biden did not clarify but rather further complicated US strategy.
The discussion on our policy toward Taiwan, according to Blanchette, is one area in which the precision of words is of the utmost importance.
"If we are going to make a fundamental policy shift that we are going to defend Taiwan even if they declare independence, then that is one that deserves a more robust discussion than everyone being informed on a 60 Minutes interview," he said. "If we are going to make a fundamental policy shift that we are going to defend Taiwan even if they declare independence, then that is one that deserves a more robust discussion."