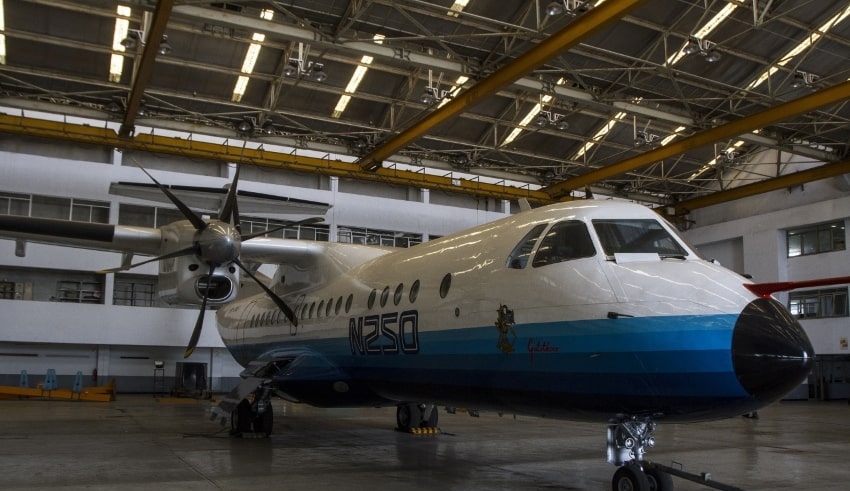 The first aircraft made in Indonesia, it was very unfortunate. Because now the Gatotkaca N250 turboprop aircraft will be included in the collection of the Central Museum of the Indonesian Air Force, Dirgantara Mandala (Muspusdirla) Adisutjipto Air Force Base, Yogyakarta.
Last night, road users along the Semarang-Solo Toll were shocked by the N250 Aircraft that also crossed the toll road. The Indonesian iconic plane by BJ Habibie was transported overland from Bandung to Yogyakarta.
Before being transported, the fuselage was dismantled at Air Force Depot Maintenance (Depohar) 10 Husein Sastranegara Bandung, West Java. Then, the fuselage was transported using 3 trailer trucks to Muspusdirla, Adisutjipto Air Base, Yogyakarta.
The truck carrying the Gatotkaca N250 plane arrived at the Banyumanik Toll Gate, Semarang City, Thursday (8/20) at around 22.00 WIB.
However, the truck carrying the Gatotkaca N250 aircraft stalled at the Banyumanik Semarang toll gate because the high cargo and size of the aircraft did not allow it to pass at the gate it was traversing.
The truck backed off, crossing to a higher substation on the opposite lane to get through.
The plane was finally able to cross the substation which has a maximum height limit of 4.2 meters.
Reportedly, PT Dirgantara Indonesia (PT DI) handed over the Gatotkaca N250 aircraft as a follow-up to the Decree of the Chief of Staff of the Indonesian Air Force (SKEP) Number 284 / VIII / 2020 dated August 14, 2020, concerning the Assignment of Grant Receipt of Aircraft PA01 N250 Prototype Aircraft belonging to PT DI for placement at Muspusdirla.
Before sending by land, PT DI carried out the process of dismantling the aircraft. Starting with opening all the access panels in the main part, be it the engine, propeller, or the main structure of the N250 aircraft such as the body, wing, and vertical stabilizer.
The Gatotkaca N250 aircraft is the first original Indonesian aircraft, the work of the 3rd President of the Republic of Indonesia, BJ Habibie. This turboprop type aircraft is produced by IPTN or now PT Dirgantara Indonesia (Persero).
In the first flight, the plane was successfully airborne for 55 minutes on August 10, 1995. N250 Gatotkaca was a star in the 1996 Indonesian Air Show exhibition in Cengkareng, Jakarta.
About the speed, this aircraft has a maximum speed of 610 km/hour with an economical speed of 555 km/hour. The aircraft has a passenger capacity is 50 people.