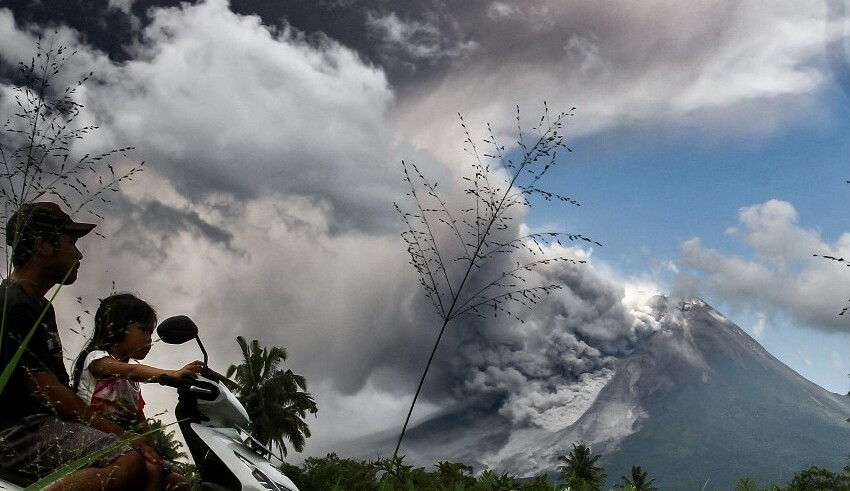 Mount Merapi, Indonesia's most active volcano, erupted on Saturday with avalanches of blistering gas clouds and lava, causing officials to suspend tourist and mining operations on its slopes.
Merapi, located on the highly populated island of Java, emitted heated ash clouds and a combination of rock, lava, and gas that went up to 7 kilometers (4.3 miles) down its slopes. A column of scorching vapors surged 100 meters (yards) into the air, according to Abdul Muhari, spokesman for the National Disaster Management Agency.
During the day, the eruption obscured the sun and buried numerous settlements with falling ash. There have been no casualties recorded.
According to Hanik Humaida, head of Yogyakarta's Volcanology and Geological Hazard Mitigation Center, it was Merapi's largest lava flow since officials upgraded the warning level to the second-highest in November 2020.
Keep Reading
She stated that locals living on the slopes of Merapi were warned to keep 7 kilometers away from the mouth of the crater and to be cautious of the threat presented by lava.
The 2,968-meter (9,737-foot) peak lies around 30 kilometers (18 miles) from Yogyakarta, a historic center of Javanese culture and the seat of centuries-old royal dynasties. A quarter million people reside within 10 kilometers (6.2 miles) of the volcano.
Merapi is the most active of Indonesia's more than 120 active volcanoes and has lately erupted regularly with lava and gas clouds. In 2010, its most recent significant eruption claimed 347 lives and displaced 20,000 residents.
Indonesia, a 270-million-person archipelago, is susceptible to earthquakes and volcanic activity due to its location on the "Ring of Fire," a horseshoe-shaped sequence of seismic fault lines surrounding the Pacific Ocean.
Mount Semeru, the tallest volcano on the island of Java, erupted in December 2021, leaving 48 people dead and 36 missing.
Also Read:- How Silicon Valley Bank collapsed: Silicon Valley Bank collapse explained