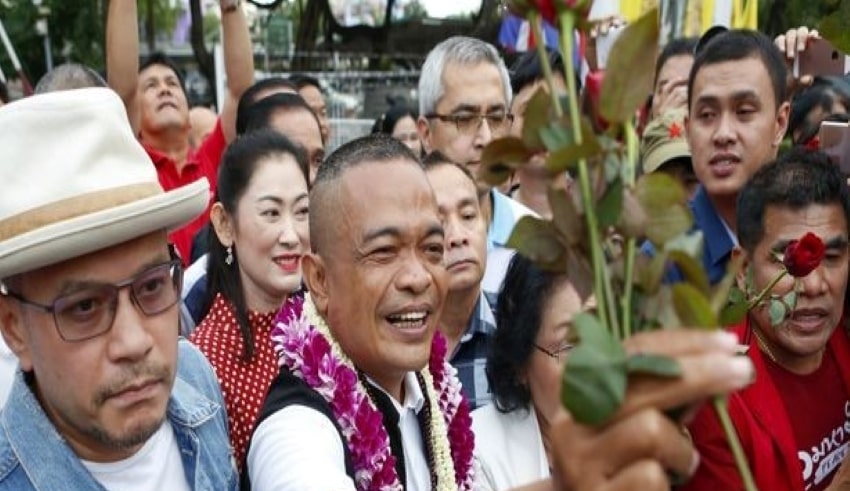 Last updated on January 17th, 2021 at 08:52 am
The legal case arose from his open support for Boonlert Buranupakorn, a candidate in the Chiang Mai election of the Regional Administrative Organisation during the polling campaign.
In view of this, Mr. Boonlert who had previously served as chairman of the PAO in Chiang Mai was defeated by former Senator Pichai Lertpongadisorn was supported by the Pheu Thai Party and former Prime Minister Thaksin Shinawatra.
Many Pheu Thai backers have blamed Mr Jatuporn for betraying the cause of the red-shirt campaign which has been closely allied to the largest opposition group.
Before the PAO elections on 20th of December. Along with this, Mr. Jatuporn claimed that Pheu Thai had wrongly accused Mr. Boonlert of being on the side of the governing Palang Pracharath Party and that Mr. Pichai had been arbitrarily preferred by a leading figure in the party over Mr. Boonlert.
Mr Jatuporn highlighted that he had been bombarded with negative remarks and misinformation after several months of PAO campaigning. Through making and passing on false accusations, he warned those involved of the seriousness of committing a cyber crime, but the attacks against him did not relent.
Consequently, supported by his counsel, he tried to get charges filed in connection with over 200 cases. Any persons would face more than 10 charges each, including activists. Mr. Jatuporn threatened to seek similar charges against more persons next week, including lawmakers and attorneys, until they avoided making baseless claims against him.
In one instance he shared that an individual falsely quoted him as saying, Unlike Thaksin, who fled the country, Prime Minister Prayut Chan-o-cha will likely be a statesman. In view of this, The chairman of the UDD utter that he checked the website from which the quote was allegedly taken and it denied that such a quote ever ran.
Mr Jatuporn added that he was also accused of flipping sides in online communications in an effort to represent the military's needs. He maintained that the UDD's mission to combat elitism had not been won, but the torch had been passed over to the young people under the banner of Free Youth, a nod to the youth-led, anti-government protestors.