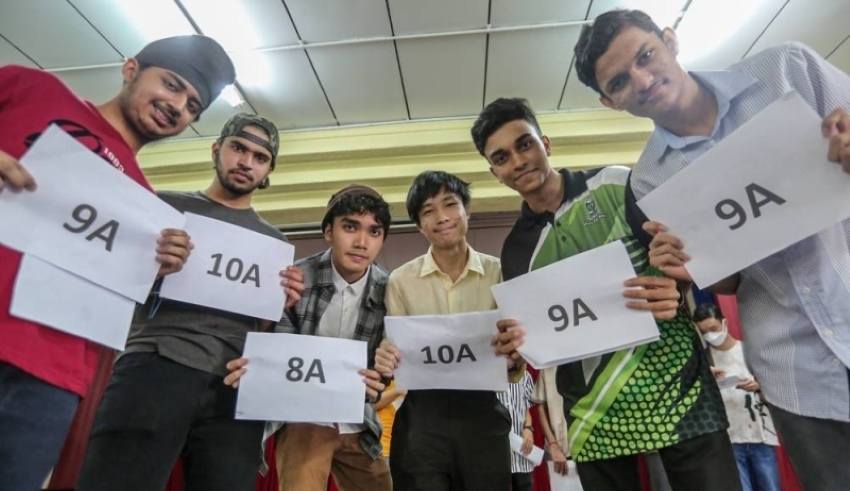 Malaysia – In the Sijil Pelajaran Malaysia (SPM) 2021 exam, a total of 9,696 applicants received exceptional scores (A+, A, and A-) in all subjects, according to Director-General of Education Datuk Nor Zamani Abdol Hamid.
She stated the National Average Grade (GPN) for this year was 4.86 as she announced the SPM 2021 results here today.
Better performance is indicated by a lower GPN number.
In 2020, the GPN was 4.80, 4.86 in 2019, 4.89 in 2018, 4.90 in 2017, and 5.05 in 2017. (2016).
"Overall, 55.29 percent of the applicants received at least a passing grade in all courses," she added.
Nor Zamani said that 336,630 applicants, or 88.09 percent of the total 407,097 registered, were qualified for the SPM certificate.
"To acquire the certificate, applicants must pass the Bahasa Melayu and History courses," she added, adding that 975 out of 1,411 CBK candidates were qualified for the SPM certificate.
Related Posts
Nor Zamani, when asked whether she was pleased with the SPM 2021 results, replied that in general, the results were positive since the candidates were the first cohort to follow the Secondary School Standard Curriculum (KSSM) in Form One in 2017.
"Due to the COVID-19 outbreak, these candidates also had a difficult learning experience in the new standards while in Form Four and Form Five."
"With limited face-to-face teaching and learning sessions, we confess it was difficult to prepare for the exams," she stated.
The SPM 2021 test will have 95 topics, including 27 new courses and 68 old subjects, for a total of 180 examination papers, in accordance with the implementation of KSSM.
Candidates for SPM also take oral examinations in Bahasa Melayu and English, as well as practical science tests (UAS), according to her.
Nor Zamani went on to say that the English subject was linked with the Common European Framework of Reference for Languages (CEFR) in order to meet the goals set forth in the English Language Education Reform in Malaysia: The Roadmap 2015-2025.
"The CEFR is an international standard for determining a student's level of language ability. "It's also on the applicants' SPM certificates," she said.
Nor Zamani also said that since this was the first time the SPM 2021 results were applied in a new manner, the Examination Board will undertake a thorough investigation.
"Because this was the first cohort to follow the KSSM, we did not compare the outcomes of SPM 2021 with the prior year," she said.