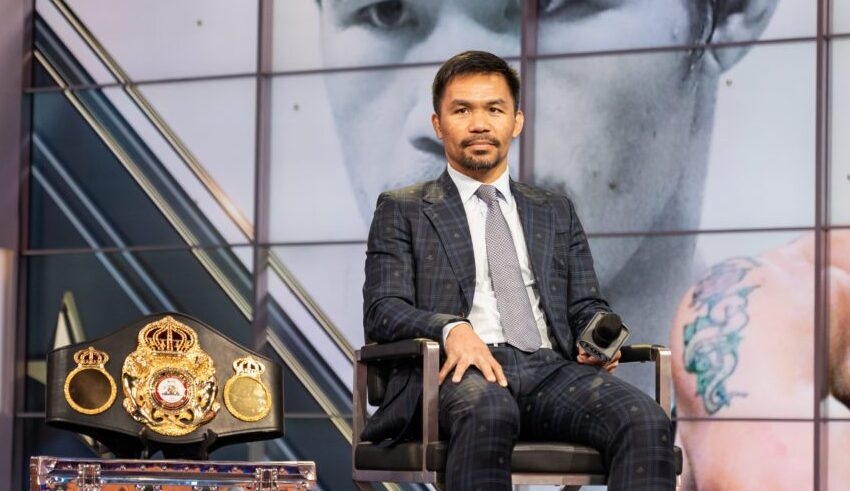 Manny Pacquiao will return to the ring in 2023 for an exhibition match organized by the Japanese mixed martial arts company Rizin Fighting Federation, he revealed in Japan on the eve of the new year, Saturday, December 31.
During an in-ring appearance at the Rizin 40 event in Saitama Super Arena, the eight-division Filipino champion made the announcement.
Pacquiao, who was standing next to Rizin president Nobuyuki Sakakibara, stated, "I was a visitor here a few months ago, and tonight I have a very exciting announcement."
"I have committed to a bout with Rizin [in 2023]. The date and Rizin's selection of my opponent will be disclosed shortly. And I'm eager and ready to battle a Japanese fighter. Thank you," the 44-year-old added.
Rizin, despite being predominantly an MMA promotion, also regularly hosts kickboxing and boxing events.
Keep Reading
Pacquiao made his exhibition debut on December 11, 2012, when he defeated Korean mixed martial artist DK Yoo through six-round unanimous decision.
Pacquiao retired from professional boxing in August 2021, following a unanimous decision loss to Yordenis Ugas in which he surrendered his WBA super welterweight title.
The former senator formally announced his retirement just as he was revving up his presidential campaign for the May 9, 2022 elections, which he ultimately lost.
Floyd Mayweather, who also faced opponents in similar exhibition bouts, competed twice for the promotion in 2018 and September of 2022.
Pacquiao sat in the front row at the American boxer's September bout against Rizin MMA fighter and YouTuber Mikuru Asakura.