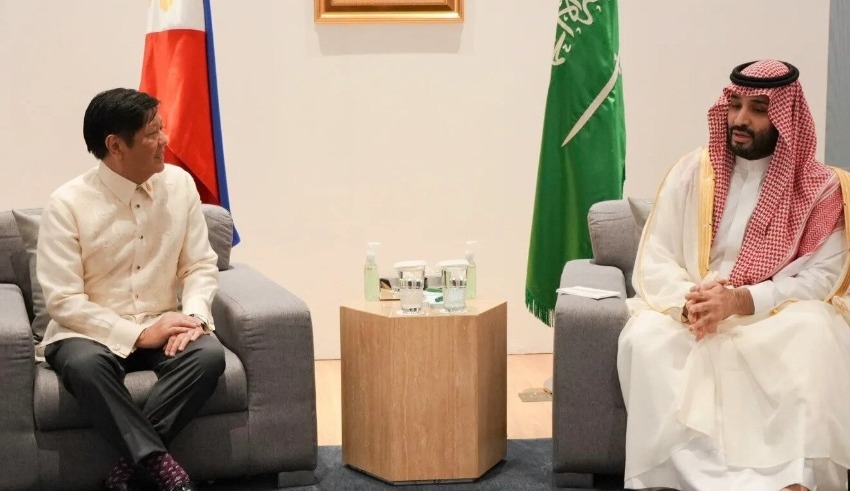 In President Ferdinand Marcos Jr.'s first meeting with a Middle Eastern head of state, in the midst of a global oil crisis, the oil supply of the Philippines was not the "main" topic of conversation. The Philippines' largest export was their labor force.
"The Crown Prince, Prime Minister went on to discuss Saudi Arabia's plans to expand its economy, and I said that after the 1973 oil crisis, Saudi Arabia's building boom prompted a new influx of overseas Filipino workers, and he stopped me and said that's not a building boom, the one that's coming is the building boom, that's nothing compared to what we are going to do, so we will need more workers, and that's another opportunity for us."
At least one more trait the current president has with his namesake and father, the late dictator, is enthusiasm for labor exports. In the 1970s, during the presidency of the first Ferdinand Marcos, the labor export program was established.
Back then, it became increasingly difficult for highly educated and competent Filipinos to find job at home. The Philippines' economy was struggling, and the country was under martial law, which restricted civil and human rights.
Keep Reading
In 1975, the elder Marcos conducted what he termed "Development Diplomacy," which increased the number of Filipinos seeking employment in the Middle East.
Exporting labor alleviated domestic job creation issues while earning cash through foreign remittances. However, it also resulted in young Filipinos growing up without their parents and families being torn apart as a result of migration that, for many, was forced rather than voluntary.
Before winning the 2022 elections, Marcos stated that he wanted to revive the "old system" of retraining returning Overseas Filipino Workers (OFWs) if they wished to secure fresh contracts abroad, as well as determining what type of labor is most in demand abroad.
Marcos stated that oil was discussed with Bin Salman, but only "a little amount." Marcos reminded him that his father's envoy to Saudi Arabia's oil minister in the 1970s was the younger Marcos.
"I would fly with him [the late president Ferdinand Marcos] para makakuha tayo ng concessions sa Saudi Arabia para sa Pilipinas (so we get concessions from Saudi Arabia for the Philippines). Sabi niya, well we may discuss it again. So babalikan natin lahat yun (He said, okay, we can discuss it again. We will follow up on that)," Marcos stated.
During the 17th of November, Bin Salman presented Marcos with a "gift": a promise to pay Filipino construction workers who had not been paid since 2015 and 2016 due to the bankruptcy of their companies. Bin Salman informed the Philippines that he had budgeted 2 billion Saudi Riyals, or more than P30,5 billion, to pay these employees.
However, if Bin Salman's plans for a "building boom" in Saudi Arabia are realized, he could very well be hoping for an influx of Filipino construction workers.
The Philippines only recently lifted a ban on the deployment of Filipino workers to Saudi Arabia, after the Middle Eastern nation created additional safeguards for workers, such as the establishment of an insurance fund that guarantees workers payment even if their employers go bankrupt and the right to switch employers in cases of abuse.
Saudi Arabia has been the most popular location for Filipinos seeking employment overseas. According to data from the Philippine government, more than 189,000 Filipinos worked in Saudi Arabia until COVID-19 forced the global economy and borders to close.