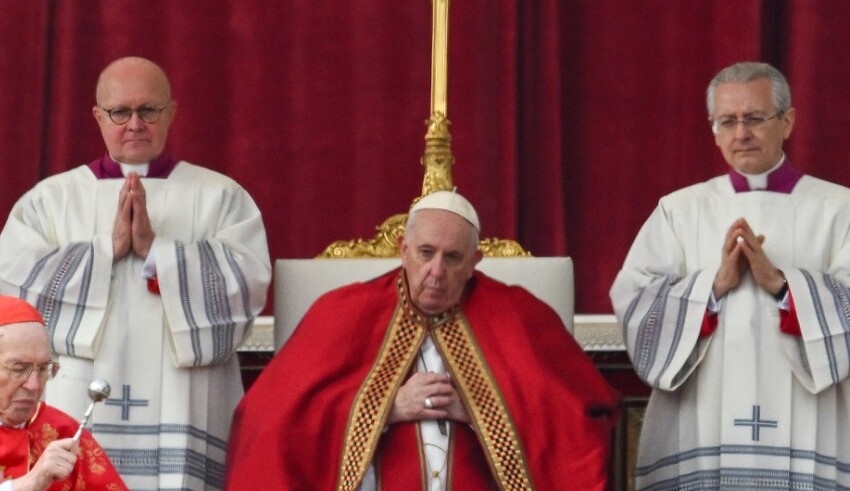 On Thursday, January 5, Pope Francis presided over the burial of previous Pope Benedict, giving a speech that compared his predecessor to Jesus in front of tens of thousands of mourners in St. Peter's square.
Twelve pallbearers carried the wooden casket containing Benedict's remains out of St. Peter's Basilica and put it on the ground in front of Christendom's biggest cathedral.
The enormous, mist-covered esplanade erupted in applause as a symbol of respect for Benedict, a hero to Roman Catholic conservatives whose resignation over a decade ago shook the globe.
Francis arrived in a wheelchair on the square. As choirs sang in Latin, the pontiff sat in a chair, staring down at the casket with a slightly stooped back and a sad expression.
Keep Reading
In his sermon delivered from the same location, Francis appeared to equate Benedict to Jesus through the use of more than a dozen scriptural passages and Church literature, including Jesus' last words before he died on the cross: "Father, into your hands I surrender my spirit."
Francis also implicitly referenced to Benedict in paraphrases of other Biblical references to Jesus, such as "love implies being willing to suffer" and that the community was "entrusting our brother to the care of the Father."
During the Mass concelebrated by 125 cardinals, 200 bishops, and around 3,700 priests, Francis also talked of Benedict's "knowledge, sensitivity, and devotion throughout the years."
He only referenced Benedict by name once, in the final line: "Benedict, devoted companion of the Bridegroom, (Jesus), may your joy be perfect when you hear his voice now and forever!"
As the sun slowly emerged from the fog, clergy from across the world, a number of heads of state, and tens of thousands of faithful attended the service.
More than one thousand Italian security troops have been sent to assist with event security, and the airspace above the small Holy See has been restricted for the day. Italy ordered that flags be flown at half-staff across the country.