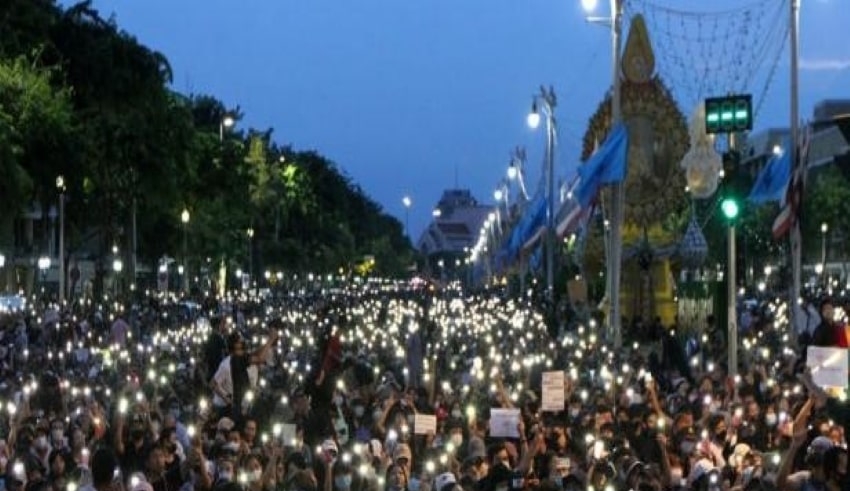 Deputy Prime Minister Prawit Wongsuwon said on Monday that people can organize demonstrations and express their views as long as they do not infringe the rights of others.
He also admitted that the Constitution needs to be revised. Gen Prawit spoke at the Government House in response to reporters' questions about the mass anti-government protest by the Free People's Party at the Democracy Monument in Bangkok on Sunday night.
The demonstrators issued a statement calling on the government to set up a constitution-making committee to draft a new constitution based on the will of the people and to stop harassing individuals by exercising their democratic rights. He shared that he have called on the government to dissolve the parliament.
The demonstrators said they would lift their anti-government campaign to a higher degree if their three-point demand was not met. Gen Prawit said the demonstrators can express their views, which may be different from those of others, as long as they do not infringe the rights of others.
The government has a responsibility to provide protection for the demonstrators. Asked why the government had done nothing since the meeting violated the emergency decree, which is still in force, Gen Prawit said, "What can we do?"
Asked how he felt about seeing such a large number of anti-government demonstrators on Sunday night, Gen Prawit declined to respond and walked away. In a subsequent interview, Gen Prawit stated that his faction, Palang Pracharath, was ready for constitutional reform and that party leaders should recommend changes through its Executive Board.
Related Article : https://www.theasianaffairs.com/thailand/2020/08/15/call-to-withstand-pressure-allow-rallies-to-show-democracy-advocates-needs-to-be-heard/