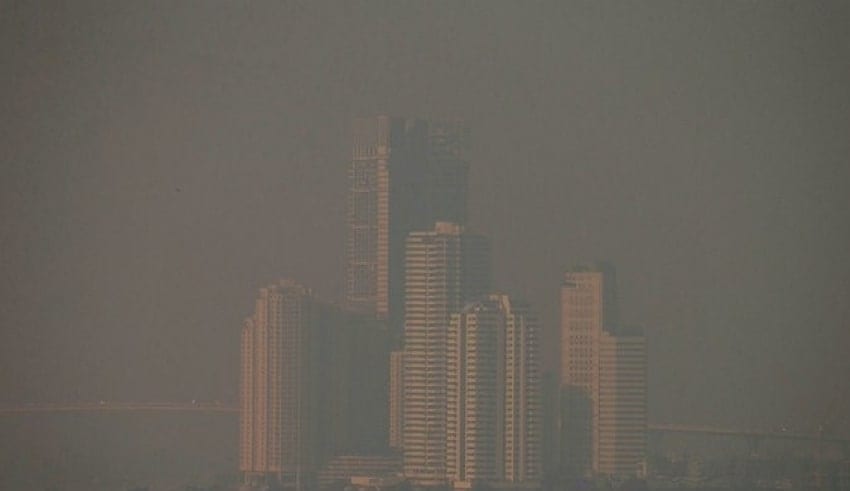 There's another issue that Prime Minister Prayut Chan-o-cha is facing as he  commanded the government agencies to take immediate steps to tackle the air pollution that has plagued Bangkok and the surrounding provinces.
The PM shared that the government had continuously introduced steps against the rising PM2.5 levels, but due to the current weather the problem had exacerbate. He encouraged passengers to use public transport as much as possible and shared that only in the capital would the government consider the implementation of alternate day private travel.
The government concentrated on the suppression of black pollution and the use of vehicles with expired licenses. In fact, the agricultural burning is one of the main causes of the PM2.5 crisis. In view of this, Prayut faced the issue to lay with the lack of sufficient non-burning waste disposal equipment for farmers.
Since the environment of the sub-region was interconnected, the government will notify a sub-regional committee about the current air pollution issue in Thailand.
Long with this, the Deputy Prime Minister Prawit Wongsuwon ordered the Ministry of Natural Resources and Environment to join forces with the Ministry of the Interior, the Ministry of Transport, the Ministry of Industry, the Police, the Bangkok Metropolitan Administration and the Ministry of Public Health to instigate the agreed steps and to enforce the law to combat the worsening air pollution aggressively and constantly.
On the other hand, Kongcheep Tantravanich, Gen Prawit instructed the Interior Ministry to take action against outdoor burning by farmers and participate with the Industry Ministry to inspect pollution emissions at industrial plants. Traffic police in Bangkok were ordered to set up road checkpoints in congested areas to inspect vehicles that emit black fumes.
For the time being, Bangkok Governor Pol Gen Aswin Kwanmuang shared the BMA had requested the Department of Highways to wash roads continuously in an attempt to minimize excessive levels of PM2.5 in several areas throughout the region. For them all 437 schools under its authority were instructed by the BMA to miss outdoor morning assembly, and major construction projects were also ordered to stop for the next two to three.
Another method they used was spraying water to wash away tree leaves and along roads, as well as cleaning public property such as bus stops, postboxes and pedestrian bridges are urgent steps taken by the BMA to counter the ongoing air pollution.
In order to avoid dust from spreading, construction site companies are encouraged to spray water into the air and City Hall has begun spraying water into the streets of the capital.
Consequently, the healthy threshold of AQI is 100, and in the range of dangerous for health, 190. Pol Capt Pongsakorn warned that for another two months, smog would possibly prevail in Bangkok.
Morever, The BMA only requires work at construction sites that does not produce dust particles, such as interior design and painting, and also discusses whether schools should be temporarily closed.