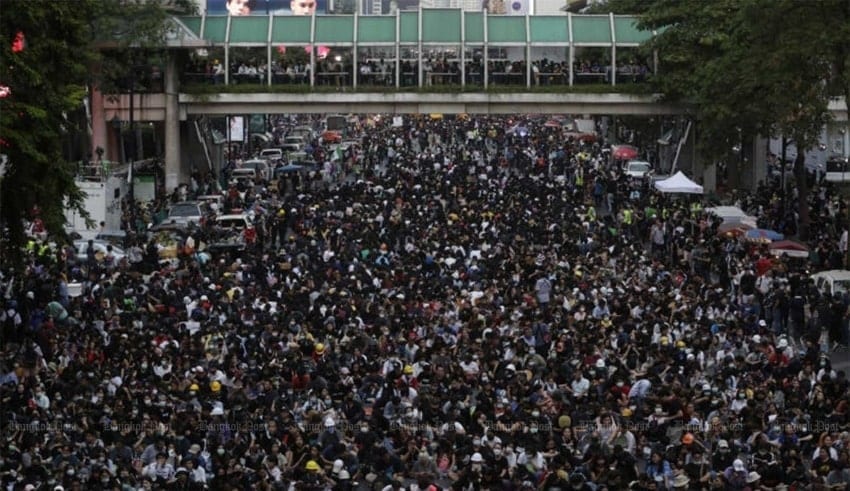 Despite the implementation for using all laws and all articles against protesters who breach the law and have little regard for other people's rights, the government and security forces will escalate their reaction to the highly violent demonstrations.
This is because of the relieved solution that the prime minister have and they set up commissions to find a way out of the crisis, but the demonstrators had failed and proceeded to break the rules. Increasingly aggressive with their acts.
In view of this, Nothing will stop the Anti-government demonstrators as they organized a light-hearted rally on the western outskirts of Bangkok, joined by red-shirted veterans of the 2014 demonstration on the same site.
At the latest version of the near-daily anti-government protests, some 1,500 people turned up. It took place on Aksa Road at the intersection between Buddha Monthon 3 Road in the Thawi Watthana district of Bangkok and Buddha Monthon 4 Road in the Buddha Monthon district of Nakhon Pathom.
The Police were mobilized to hold protesters outside the Thawi Watthana Palace's 150-metre perimeter. In fact, The rally took place in 2014 at the site of a red shirt march, and most of the participants appeared to be former members of the Unified Front Against Repression for Freedom. To honor comrades killed in previous demonstrations, they showed coffins.
The rally had the air of a temple fair amid the symbolic seriousness and featured comedians together with speakers taking turns to condemn the government and the military. Nonetheless, organizers said they had organized separate groups of guards to shield demonstrators from any attacks, including vocational students.
Morever, They also announced that a rally in front of the Crown Property Bureau which will continue to be held.