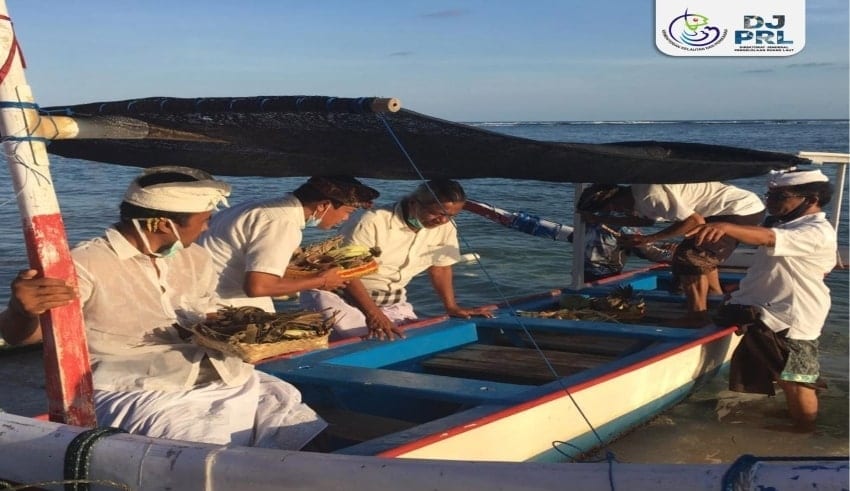 (C) Dit. Jasa Kelautan / Twitter
Here's Edhy Prabowo, Minister of Maritime Affairs and Fisheries shared that planting a coral or coral reef is equal to planting 20 trees and will help efforts to boost the economy in the coastal areas of the country. He agrees that the conservation of coral or sea reefs could be useful in efforts to boost the coastal economies and is in line with the National Economic Recovery initiative.
For them, The coral reef regeneration program in the Indonesian Coral Reef Garden and the protection of coastal habitats are expected to stimulate economic growth, such as in Bali, where the tourist industry has been halted by a pandemic.
Hari ini 07/11 masyarakat di Tanjung Benoa Nusa Dua pada program padat karya Indonesia Coral Reef Garden (ICRG) membuat media karang jenis pipa untuk restorasi terumbu karang sebagai atraksi wisata bahari. pic.twitter.com/wf2NogmV9r

— Dit. Jasa Kelautan (@DitJasaKelautan) November 7, 2020
In view of this, The Ministry of Marine Affairs and Fisheries, coral reef conservation under the Indonesia Coral Reef Garden program will assist the resort island of Bali to initiate recovery in its tourism industry. The Acting Director General of the Ministry of Maritime Spatial Management, In a statement noted that the ICRG program was an initial step towards the recovery of the tourism sector in Bali, which was seriously hit by the COVID-19 pandemic.
In fact, It was launched on October 7, 2020, the ICRG program is a labor-intensive coral reef conservation project at five Bali locations: Nusa Dua, Serangan, Sanur, Pandawa Beach, and Buleleng. The scheme is expected to recruit about 11 thousand workers affected by the pandemic and the coral transplantation organisations involved.
From the budget allotted by the Ministry of Maritime Affairs and Fisheries, a coral reef garden will be constructed. The contribution would come from the Rp111.2 billion National Economic Recovery (PEN) fund.
The ICRG is part of the National Economic Recovery initiative, which seeks to reduce the effect of COVID-19 on the economy. Meanwhile, Miftahul Huda, Director of Marine Services of the Ministry, claimed that the ICRG policy would prioritize all local staff and equipment, so that local welfare can be boosted.
The construction of the coral garden system and its supporting infrastructure is the priority of the coral reef conservation program. Huda shared that the initiative is supposed to promote the recovery of marine tourism and raise people's wages, further decreasing poverty, generating more employment and fostering industrial growth in the marine industry.