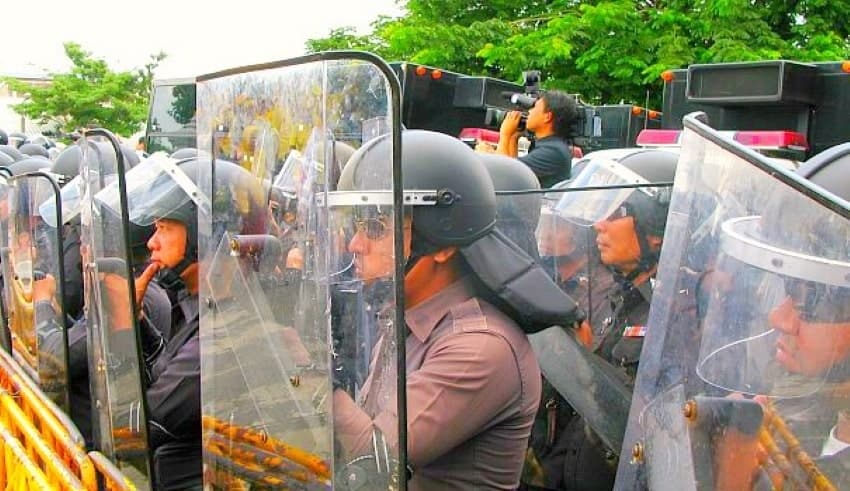 (C) Flickr, Gerry Popplestone
Last updated on May 17th, 2021 at 10:56 am
Police intend to prosecute pro-democracy demonstrators on Friday in favor of their colleagues who created violent scenes.
Supporters of anti-government activists who arrived at the Samran Rat Police Station to accept charges arising from a July 18 rally breached police barriers and one hurled a paint container at officers, claiming it was a form of art used to respond against intimidating authorities.
The supporters forced their way into the station complex, gathering as the activists entered the building to accept the charges at the bottom of the front entrance stairways. Chaiamorn Kaewwiboonpan, the singer-songwriter, known as Ammy of the Bottom Blues Band, was the one who hurled a container of blue paint at police. This is not a threat. If you continue to intimidate us, we will intimidate you back in artistic ways, according to him.
Jatupat "Pai Dao Din" Boonpat-tarasaksa and 14 other activists were summoned by police to answer chargesMr Jatupat has said all allegations were rejected by the 15 activists. Regarding the confusion at the police station in front of Samran Rat, he said the demonstrators had always tried to be respectful and apologized for the incident. They 'd collect money to make up for police damage to their uniforms. against them and were bailed on 200,000-baht assurances each.
Mr Jatupat added that the protesters claimed there were a lot of good officers in the police. If they showed us they'd stand on the side of the people, then defend them, he said. He said the battle of the demonstrators was with government, not the police, but officers siding with the authorities were on their opposing side.
Metropolitan Police Division 6 commander Pol Maj Gen Methee Rakphan later said charges would be laid against protesters for breaking police barriers and investigators would submit their findings to public prosecutors on Sept 16.
Related Article: https://www.theasianaffairs.com/thailand/2020/08/22/on-going-protest-made-the-police-defend-themselves-by-arresting-the-leaders-that-broke-the-law-during-rallies/