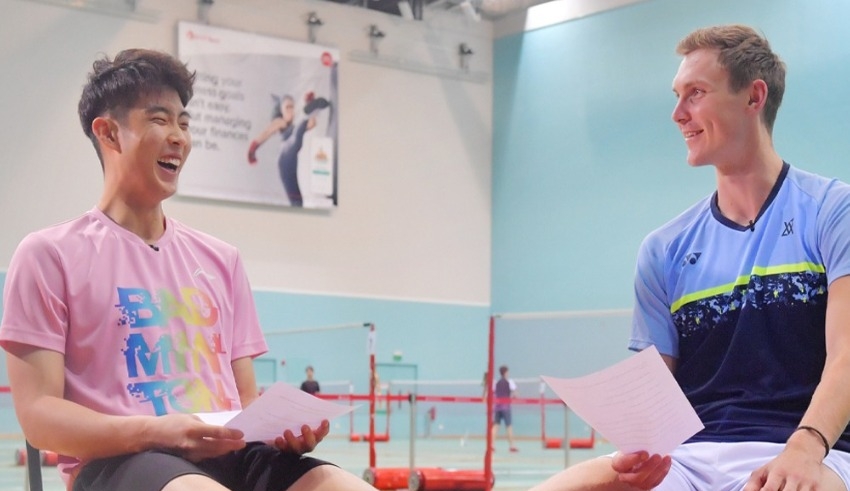 The legendary "Lin-Lee rivalry" in badminton came to an end with the retirements of the Chinese player Lin Dan and the Malaysian player Lee Chong Wei. This rivalry had defined the sport for well over a decade, beginning in the middle of the 2000s, and had taken it to new heights.
Before Denmark's Viktor Axelsen and Singapore's Loh Kean Yew came along, it was difficult to think that there could be another pair of competitors who would catch the imagination of spectators with as much fervor. However, that is exactly what happened.
The World Championships were held in August, and Axelsen emerged victorious, while defending champion Loh was eliminated in the quarterfinals. Loh lost 12-21, 21-17, 8-21 to eventual runner-up Kunlavut Vitidsarn.
In the 2021 competition, Loh, then 25 years old, defeated Axelsen in the first round in three games, paving the way for Singapore to win its first-ever national championship.
Since he first came to the attention of the badminton world in 2010 at the age of just 16 when he became the first European to win the World Junior Championship, Viktor Axelsen, now 28 years old, has consistently been a cut above the rest of his competition. He currently holds the world junior title.
Since then, he has solidified his position at the top, winning the world championship in 2017 and becoming the number one player in the world. After suffering injuries, he staged a remarkable return and went on to win the Olympic title in Tokyo in 2020 without losing a single match. The previous week, he won the world title in the same dominant fashion as before.
Kento Momota, the 2018 and 2019 World Champion for Japan, has been the player who had come the closest to Axelsen in terms of developing a long-term tough rivalry. However, the 27-year-old player is still having trouble getting back into top shape since the beginning of 2021.
Axelsen prevailed over Momota in their most recent match, which took place in the final of the Petronas Malaysia Open in July. Axelsen won 21-4 and 7-21 in just 34 minutes. In the round of 32 in the World Championships, which Momota was competing in on his home soil, he was defeated by the unseeded Prannoy H S.
Step forward Loh Kean Yew, who is 25 years old. Following Loh's unprecedented victory at the World Championships in 2021, Axelsen's role as Loh's training partner was instantly brought to light.
It is clear that Axelsen and Loh's relationship extends beyond that of training partners to that of actual friends, as evidenced by the fact that Axelsen's daughter refers to Loh as "Uncle Loh," and the fact that Axelsen and Loh frequently engage in witty banter with one another on social media.
The "bromance" between Loh and Axelsen created a new wave of intrigue among badminton enthusiasts as well as members of the media. Is it possible for competitors in the same sport to be the best of friends?
It is not very common at all. On the other hand, it could be a uniquely Danish trait.
Keep Reading
The on-court competition between the two tennis greats, Carolina Wozniacki of Denmark and Serena Williams of the United States, is matched by their close relationship off the court. Williams, who is well-known for her highly competitive nature, even served as the Danish player's bridesmaid when Wozniacki got married in 2019.
They are also well-known for attending Mariah Carey's concert in Singapore together the night before their difficult semi-final match at the 2014 WTA Finals. This match was one of the most intense of the tournament.
Such close relationships between competitors in a sport typically don't develop until after one of them retires, which is what happened with NBA greats Larry Bird and Magic Johnson after they finished their careers.
In the sport of badminton, the legendary partnership of Lin and Lee was founded on the durability and consistency of their rivalry; during the course of their careers, they competed against one another a total of forty times.
Lin Dan and Lee Chong Wei are respectful and amicable toward one another off the court; yet, they have just met each other for the purpose of competing against one another; unlike Loh and Axelsen, they do not train together.
In a sport like badminton, where success has always been institutionalized and cultivated deeply within national lines, the relationship between Loh and Axelsen as both competitors and training partners stands out as particularly noteworthy.
The commotion started in 2021, when Axelsen made the shocking announcement that he was going to leave the training base of the Danish badminton squad to train individually in Dubai. It was a step that had never been done before, and some people in Denmark found it to be both unique and provocative.
Once upon a time, it was unimaginable for a player to achieve success outside of the winning formulae given by his respective national teams. Players are scouted when they are still teenagers, and once signed, they are given the equivalent of a long-term job contract as well as access to high-quality training facilities, sports scientists, coaches, sponsors, and a plentiful supply of training partners.
The vast majority of people work under this national system until they reach retirement age. This is in contrast to professional individual sports such as tennis and golf, in which players are often left to their own devices in order to attain success.
Axelsen was forced to get inventive in order to form his own globalized "team" because there were no available training partners in Dubai. The Dane gathered people for a fun time and a fun task, primarily selecting them based on the "vibe" they gave off.
A number of people, including Loh, were among the first to receive and accept his invitation, which came with the blessings of the Singapore Badminton Association.
It was an equally courageous move on Loh's side to leave the safety and conveniences of a very familiar training set-up in order to join what Axelsen refers to as a "experiment" in pioneering a new way forward for both themselves and the sport.