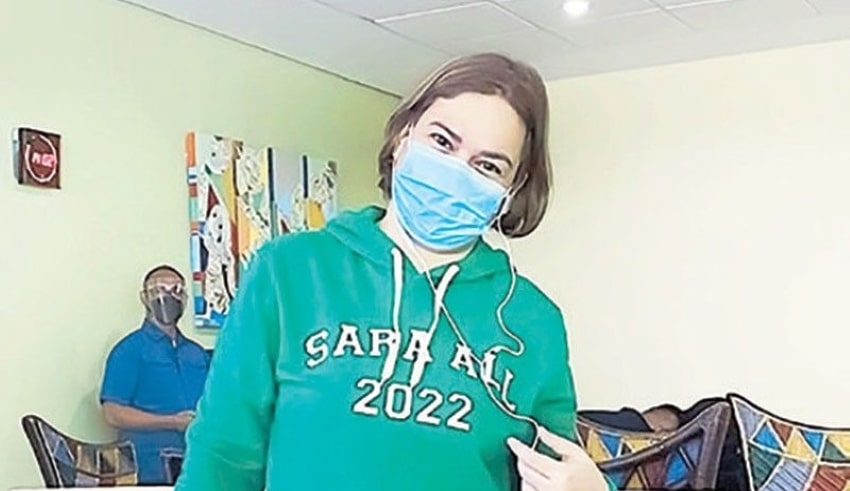 Philippines – Has President Duterte's daughter, Mayor Sara Duterte-Carpio, changed her mind and finally decided to run for president after filing for reelection? After recovering from COVID-19, Duterte-Carpio flew to Cebu City yesterday to meet a cousin, 5th district Rep. Red Duterte. She confirmed her trip in a Facebook post. Her arrival in Cebu coincided with the birthday celebration of Leyte Rep. Martin Romualdez's wife  Yedda.
In view of this, A cousin of Romualdez, former senator Ferdinand Marcos Jr. who is running for president. Many took Duterte-Carpio's outfit as an indication of her interest in seeking the highest office in the land. In her first public appearance after recovering from COVID-19, Duterte-Carpio showed up in a green hoodie printed with 'SARA ALL 2022' with in blue pants and white sneakers.
Consequently, She was all smiles during a photo op at the VIP lounge of the Davao International Airport. "SARA ALL 2022" is the rallying cry of her supporters egging her to run for president despite her already having filed her certificate of candidacy for reelection as Davao City mayor last Oct. 2.
Marcos, meanwhile, reportedly met with Cebu Gov. Gwen Garcia, reportedly to inform her of his plans to put up his campaign headquarters in the city.
Related Posts
There is reportedly no scheduled meeting between Marcos and Duterte-Carpio. Marcos was attending the dinner with the Romualdezes last night and that the presidential daughter was not expected to be at the same event.
Instead, Duterte-Carpio is set to join the Romualdezes over lunch today.
Along with this, Romualdez is a ranking official of the Lakas-CMD party headed by former president Gloria Macapagal-Arroyo. The Lakas-CMD earlier signified support for Duterte-Carpio should she decide to run for president.
Morever, Lakas-CMD is one of the national political parties reportedly set to coalesce with Duterte-Carpio's Hugpong ng Pagbabago (HNP) regional party.Speaker Lord Allan Velasco and several other congressmen were also attending the party for Yedda Romualdez.Duterte-Carpio is also reportedly set to meet with Liloan, Cebu Mayor Christina Frasco, who was earlier designated as her spokesperson.