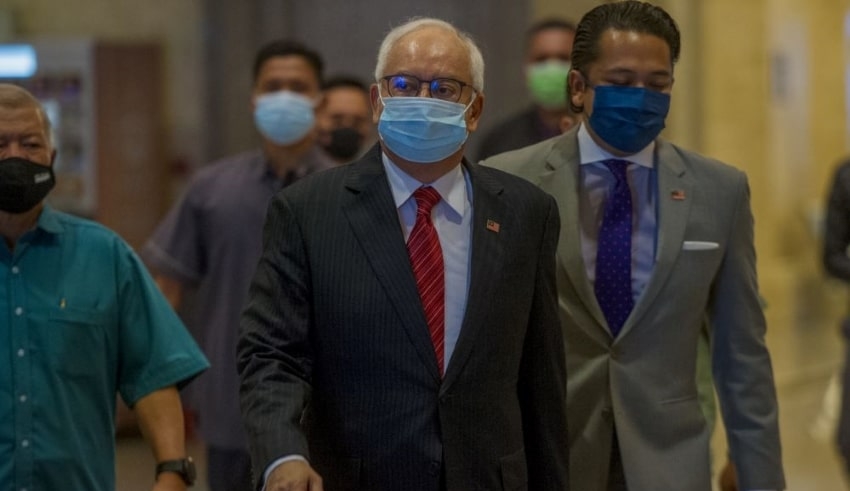 The 1MDB trial of Datuk Seri Najib Razak has been postponed again after having his eye surgery last week. Tan Sri Muhammad Shafee Abdullah, Najib's lawyer has informed the High Court that his client was advised to rest following his surgery.
Shafee told the Court that Najib's condition is getting a little better as the swelling has reduced but because the puffiness and the redness of his eyes were still as intense, the doctor he consulted with told him to take a rest in accordance with the seven-day leave. He also said that although tomorrow is a public holiday, Najib is still going to see the doctor.
Related Posts
Shafee also added that it is more likely that Najib might be able to continue the trial on Thursday. The High Court Judge, Collin Lawrence Sequerah then postponed the hearing on Thursday.
Najib's 1MDB trial was scheduled to be heard yesterday, but has gotten postponed today as Shafee informed the Court that Najib was still recovering after getting eye surgery.
The judge agreed to the lawyer's request yesterday and asked them to come today to proceed with the trial if Najib will be well enough to attend the hearing.
However, Najib was nowhere to be found in the courtroom today while his lawyers and aides came.The 1MDB case linked to Najib includes 4 counts of power abuse charges and 21 counts of money laundering charges in relation to more than RM2 billions of 1MDB fund was set to be heard in all of the remaining months this year which will be from June to December. The 1MDB trial started on August 28, 2019 with Mohd Hazem Abd Rahman as the current witness brought in by the prosecution. Najib's trial in August 2019 in conjuction with the SRC International Sdn Bhd's RM42 million funds was already postponed before due to his eye infection. While the trial on September 11, 2019 and as well as on October 31, 2019 were also moved due to his eye conditions. Clearly, this is not the first time that Najib's trials had to be postponed due to his eye problems.