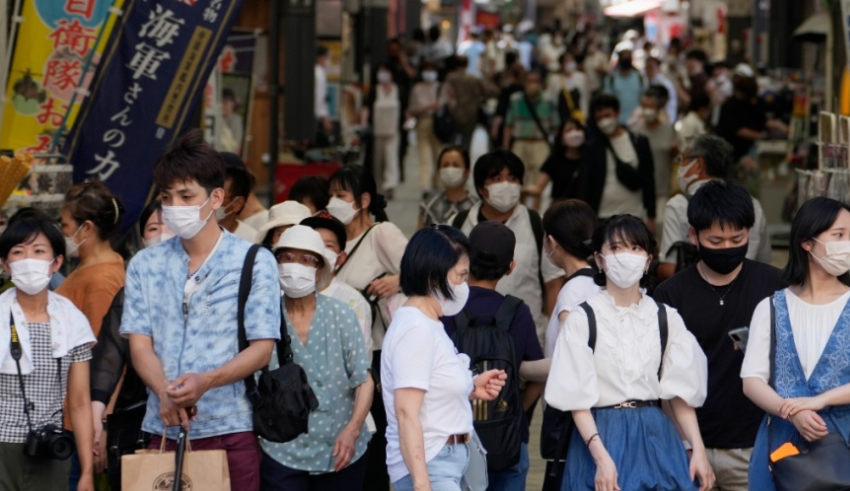 There are no plans for any comprehensive national measures; however, Japan is encouraging regional authorities to take their own counter-measures against the spread of a new coronavirus variant that has sent cases surging to record levels. This is despite the fact that there is currently no plan in place for any such measures.
As the BA.5 strain of the virus continues to spread in Japan, the seventh wave of COVID-19 has caused the daily tally of new cases to reach a record high of 233,094 on Thursday (July 29). This has put a strain on medical services and caused some businesses to experience disruptions in their operations.
Instead of ordering its citizens to remain indoors as much as possible and restricting the hours that restaurants and bars are open, Japan has never implemented a nationwide lockdown on the scale seen in other nations. Instead, the country issues periodic requests to its citizens to remain indoors as much as possible.
On Friday, Deputy Chief Cabinet Secretary Seiji Kihara underlined that point, stating that regional authorities have to adapt their responses to the particular circumstances of their regions.
Related Posts
"Rather than a national response, we want to support regional authorities in their efforts that are based on their local situations. What's important is to help each prefecture's social and economic activities," Kihara stated during a regular news conference.
Osaka, a city in western Japan, recently issued a warning to senior citizens to limit their participation in non-essential trips.
The governor of Tokyo, Yuriko Koike, has urged the city's people to be tested frequently, particularly at the free centers that have been set up in the city's train stations, and to continue taking precautions like wearing masks; nevertheless, the capital has not yet implemented any restrictions.
She stated this during one of their routine press conferences: "We've learned a lot from our experiences over the past few years."
The country of 125.8 million people has handled the epidemic better than some others, with a total of 32,308 deaths recorded since the virus first appeared in early 2020.
According to the most recent report from the World Health Organization (WHO), Japan had the greatest number of newly reported cases of coronavirus for the week ending July 24.
Even though the number of fatalities associated with the most recent outbreak has been relatively low in comparison to those associated with earlier outbreaks, new illnesses are starting to take their toll on certain industries.
Train companies in some places have been forced to reduce services because of a lack of employees, and this week Toyota Motor Corporation had to cease night shift operations at one of the production lines at its Takaoka factory in central Japan owing to COVID-19.