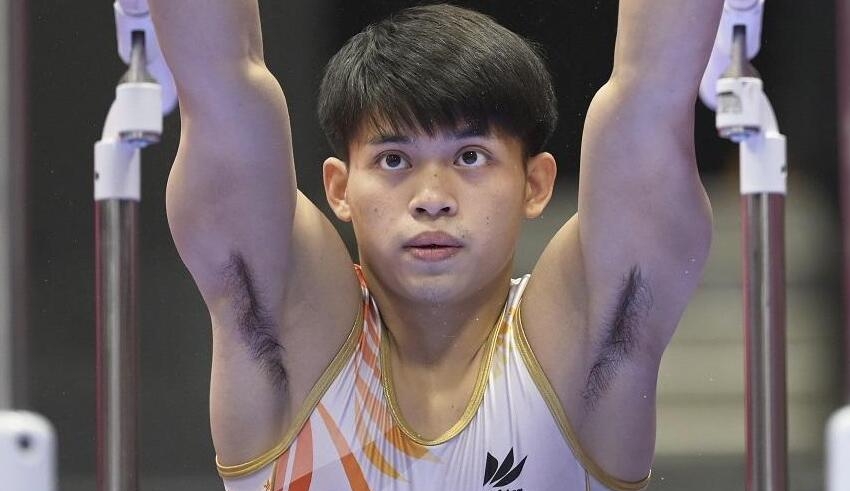 Carlos Yulo, despite his greatness, still struggles with self-doubt.
After concluding his performance at the World Artistic Gymnastics Championships in Liverpool, England, the Filipino acknowledged the need to be mentally tougher.
Yulo won silver in vault and bronze in parallel bars, but he accepted defeat as he finished eighth in floor exercise, the sport in which he won his first world championship three years ago.
"I feel insecure about myself due to the things I cannot accomplish that others can," Yulo stated in a combination of Filipino and English during a Monday, November 7 virtual press conference.
Sometimes I am so preoccupied with the things I cannot do that I am unable to notice my positive qualities.
Yulo appeared ready to defend his floor exercise world title, as he was the only gymnast at these world championships to surpass the 15-point threshold.
He won the qualification round with 15.266 points and the finals with 15.166 points.
The 22-year-old, however, stumbled when it mattered in the floor exercise finals on Saturday, with an unexpected fall early in his routine denying him a podium position as he scored 13.3 points to place second-to-last out of the eight finalists.
The previous day, Yulo had competed in the all-around finals, where he was grouped alongside the likes of Zhang Boheng, Daiki Hashimoto, and Wataru Tatarawa of Japan.
Hashimoto, the reigning Olympic all-around champion, won gold by dethroning Zhang, who took silver, while Tanigawa won bronze.
Keep Reading
"It was the first time I was surrounded with exceptionally talented individuals. That's when I discovered I am lacking in many areas. Not only in terms of abilities, but also on a mental level, they're very different," stated Yulo. "I wish to be like to them. I admire these gymnasts."
Yulo finished ninth in the all-around finals due to his subpar performances on the pommel horse and horizontal bar, his two weakest events.
Among the 24 all-around finalists, Yulo demonstrated his prowess in the floor exercise (15.166) and parallel bars (15.166) by placing first.
The former world champion stated that he must strike a balance between striving to grow and recognizing his limitations.
"Sometimes, I spend so much time concentrating on the pommel horse and high bar that I neglect my strong events," said Yulo.
"I'm still seeking that equilibrium. It is still difficult for me to accept myself, but step by step, and I say this from the depths of my heart, I am finding a way to accept myself."
Yulo refused to leave Liverpool empty-handed, excelling in the vault and parallel bars, the same disciplines in which he won medals at the last global championships in Kitakyushu, Japan.
Despite falling short of his goals of capturing a second consecutive vault gold and repeating his silver finish in parallel bars, Yulo views his world championship performance as a step in the right direction due to the caliber of his competitors.
Olympic bronze medallist Artur Davtyan defeated Yulo for the vault championship by a narrow margin.
Only China's Zou Jingyuan and Germany's Lukas Dauser, who won gold and silver, respectively, at the Tokyo Olympics last year, were ahead of him on the parallel bars.
"I was startled because I am approaching their skill level. I also noticed my progress," Yulo stated. "My experiences in the global championships have been positive. I learned numerous lessons."
As Yulo returns to Japan, his qualification campaign for the 2024 Summer Olympics in Paris will commence early the next year.
From February through April, Yulo will compete in four World Cups : Azerbaijan, Germany, Qatar, and Egypt.