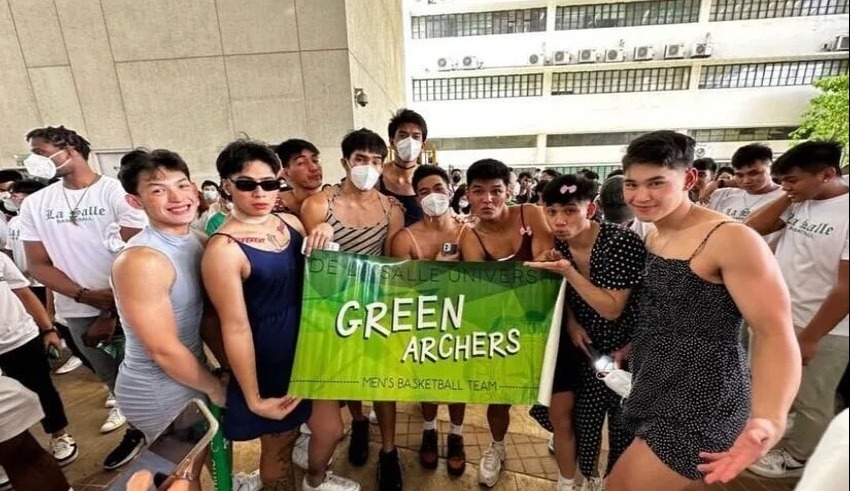 During the school's pep rally on September 28, several new members of the men's basketball team at De La Salle University (DLSU) dressed up as women. This caused a controversy at the school.
The Green Archers do this performance every year as a way to welcome new members. It was only this year that the university's student government said it made many people "uncomfortable."
Thursday, September 29, the president of the University Student Government (USG), Giorgina Escoto, said that the performance made fun of how people show their gender.
Escoto said she didn't watch the performance live, but when she saw the photos on social media and in her group chats, she was just as shocked as if she had seen it live.
"Yes, you can wear whatever you like. But how people show their gender is not something to laugh about," Escoto wrote on her Facebook page in a mix of English and Filipino.
"I talked to the university administration about this. We will make sure to do something about this now that the DIVERSE Taskforce has been set up. This is a stark reminder that we need to improve the university's Safe Spaces Policy."
Keep Reading
Some Green Archers were caught on camera wearing women's clothes, make-up, and padded bras.
The pep rally happened just days before the UAAP men's basketball tournament started on Saturday, October 1.
Photos of the team's yearly tradition that were posted online by DLSU's official student newspaper, The LaSallian, were criticized by students, with some saying that the performance downplays the struggles of queer students.
Moi Pulumbarit, the DLSU USG's commissioner for gender equality and empowerment, said that the situation was a clear example of a lack of knowledge about gender equality.
Pulumbarit said, "As queer students, our identities are something we choose, something we make, and something we have always fought for in the community."
"We stand strong against discrimination, constant misogyny, internal homophobia, and rampant attacks on our identities."
Pulumbarit said that what had happened was "disappointing."
Pulumbarit added, "Seeing how the pep rally yesterday frustrated, hurt, and angered many students, including myself, shows that we have a long way to go to make the university a place where everyone feels welcome."
"When social norms tell us that we can only see things through the lens of heteronormativity and tradition, the ways we choose to express ourselves are a way to free ourselves."