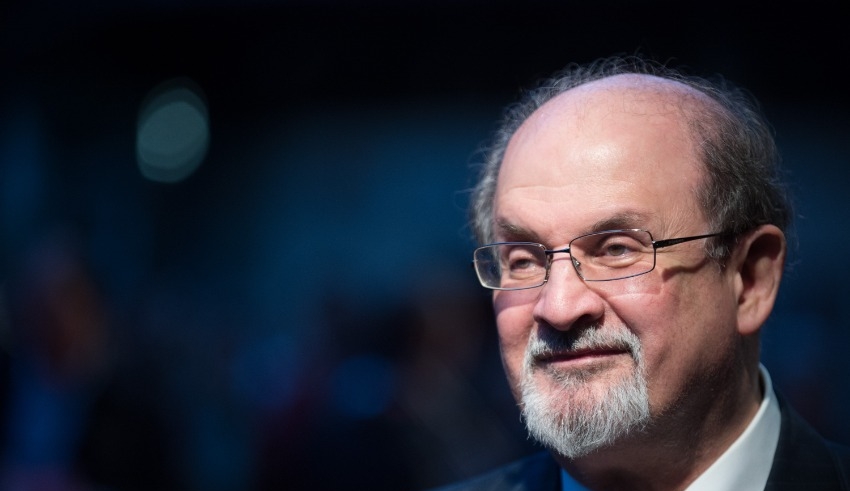 On Friday, August 12, the Indian-born novelist Salman Rushdie was stabbed in the neck and torso onstage at a lecture in New York state, and he was airlifted to a hospital, according to the police. Rushdie had spent years in hiding after Iran urged Muslims to kill him because of his writing, and the incident occurred on the same day.
After undergoing hours of surgery, Rushdie was placed on a ventilator and was unable to talk on Friday evening. This came after an incident that had been decried as an assault on the freedom of expression by authors and politicians from around the world.
Andrew Wylie, his book agent, warned in an email that "the news is not good."
It is likely that Salman may lose one of his eyes. The nerves in his arm were destroyed. His liver was punctured and damaged.
Rushdie, 75, was being introduced to give a talk to an audience of hundreds on artistic freedom at Chautauqua Institution in western New York when a man rushed to the stage and lunged at the novelist, who has lived with a bounty on his head since the late 1980s. Rushdie has lived with a bounty on his head since the late 1980s.
After Rushdie had fallen to the floor, guests helped pry the man away from Rushdie with their bodies. The assailant was taken into custody by a member of the New York State Police who was providing security at the event. Hadi Matar, a man who was 24 years old and from Fairview, New Jersey, was recognized by the police as the culprit. Matar had purchased a pass to attend the event.
Bradley Fisher, who was in the crowd at the incident, described what happened as follows: "A man went up on the stage from I don't know where and started what looked like beating him on the chest, repetitive fist strokes into his chest and neck." People were yelling, sobbing, and gasping for air at the same time.
According to the authorities, a physician who was present at the event assisted in providing medical care to Rushdie while emergency personnel arrived. A minor head injury was sustained by Henry Reese, who was serving as the event's moderator. The police stated that they were collaborating with federal detectives in order to establish a motive for the crime. They did not provide any details regarding the weapon that was utilized.
Threats against Salman Rushdie's life have been made for a very long time because of his fourth novel, The Satanic Verses. Rushdie was born into a Muslim Kashmiri family in Bombay, which is now Mumbai, before relocating to the United Kingdom. Some Muslims claimed that the book contained utterances that were blasphemous. Upon its publication in 1988, it was immediately prohibited in a number of nations with sizable Muslim populations.
A few months later, the Ayatollah Ruhollah Khomeini, who was the supreme leader of Iran at the time, issued a fatwa, which is a religious edict, in which he called on Muslims to commit blasphemy by killing the novelist as well as everybody involved in the publication of the book.
Rushdie, who referred to his book as "quite moderate," went into seclusion for over ten years after its publication. The Japanese translator of the novel, Hitoshi Igarashi, was killed in 1991. Hitoshi Igarashi translated the novel into Japanese. In 1998, the Iranian government announced that it would no longer support the fatwa, and in recent years, Rushdie has lived a life that is relatively open to the public.
There is a multi-million dollar reward being offered for information leading to Rushdie's capture or death by Iranian groups, some of which are associated with the Iranian government. Ayatollah Ali Khamenei, who succeeded Khomeini as supreme leader, declared as recently as 2019 that the fatwa was "irrevocable."
In 2016, the semi-official Fars News Agency in Iran as well as other news outlets contributed money to enhance the bounty by $600,000. In their report on the attack that occurred on Friday, Fars referred to Salman Rushdie as an apostate who "insulted the prophet."
Related Posts
Not your usual writer
Joseph Anton was the alias that Rushdie employed when he was under the protection of the British government and used in the memoir that he wrote and released in 2012 about his secluded and hidden existence while living under the fatwa. The Booker Prize was awarded to him for his second novel, titled Midnight's Children. His upcoming book, Victory City, is going to be released somewhere in February.
Rushdie was "stabbed while exercising a privilege we should never cease to defend," according to statements made by the British Prime Minister Boris Johnson, who expressed outrage at the incident.
According to the website for the institution, Salman Rushdie visited the location in western New York for a talk about the possibility of the United States providing shelter to artists who are now living in exile and serving "as a home for freedom of creative expression."
Attendees stated that the employees at the Chautauqua Institution, a historical site that was established in the 19th century in the small lakeside town of the same name, just verified people's passes to determine entry. There were no evident security checks at the Chautauqua Institution.
An Algerian author and human rights activist named Anour Rahmani was there at the event and shared his thoughts on the topic with the crowd. He remarked, "I felt like we needed to have greater protection there because Salman Rushdie is not your typical writer. A fatwa has been issued against him because he is a writer."
Michael Hill, the president of the organization, stated during a news conference that it was standard procedure for them to collaborate with state and local authorities in order to ensure event security. He guaranteed that the summer's activities will resume very soon.
According to Hill, "our entire mission is to assist individuals bridge what has been too divisive of a world. In light of this tragedy, the worst thing Chautauqua could do would be to back away from its objective, and I don't think Mr. Rushdie would want that either," Chautauqua's president said.
In 2016, Rushdie was naturalized as a citizen of the United States, and he currently resides in New York City.
A self-described lapsed Muslim and "hard-line atheist," he has been an outspoken critic of persecution in his native India, notably under the Hindu-nationalist government of Prime Minister Narendra Modi. He has also been a sharp critic of religion across the spectrum.
An advocacy organisation for free expression named PEN America, of which Rushdie is a former president, stated that it was "reeling from shock and horror" at what it called an unprecedented attack on a writer in the United States. Rushdie was the target of the attack.
Suzanne Nossel, the chief executive of PEN, was quoted as saying in the statement that "Salman Rushdie has never flinched nor faltered" in response to the threats made against him because of his writings. She stated that Rushdie had emailed her earlier in the morning to ask for her assistance in moving Ukrainian writers who were looking for shelter.