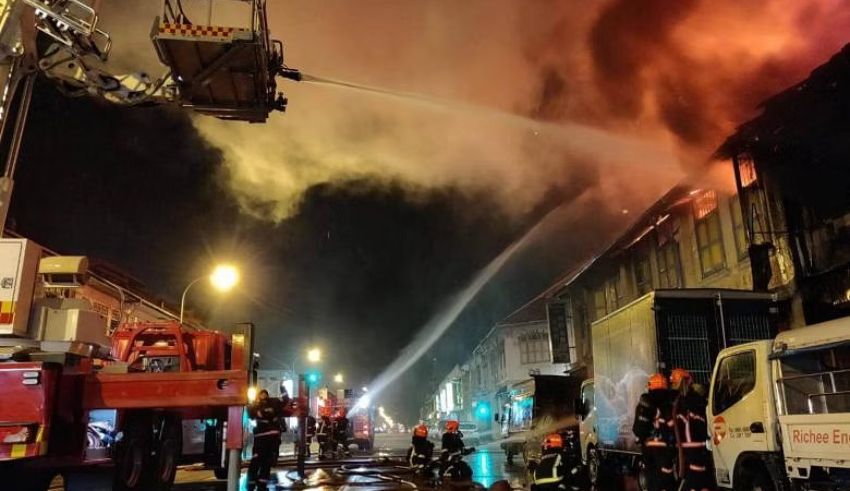 A fire broke out Monday morning at a shophouse in Geylang – a township area located in the central region of Singapore – prompting the evacuation of some 30 people from neighbouring units. Twelve emergency vehicles and about 50 firefighters were deployed to put out the blaze.
The Singapore Civil Defence Force (SCDF) was alerted of the incident at 61 Geylang Lorong 27 at about 7:30 am local time. The fire, which erupted on the third floor, had burnt through the roof and was swiftly proliferating to the adjacent unit, the organisation revealed in a Facebook post.
Firefighters used four water jets at the height of the operation to bring the flames under control, said SCDF, adding the blaze was put out within an hour. No injuries were reported, while footage on Reddit showed thick smoke rising from the rooftop of a shophouse.
Keep Reading
Affected Ones Express Worry As Essentials Potentially Burnt In Fire
Authorities are yet to ascertain the cause of the fire. SCDF shared details of the damping down operations around 9:30 am. The process involves wetting burnt surfaces after putting out the blaze to prevent a fire from rekindling from the hot and damaged entities.
Recollecting the chaotic environment, Muthurama told The Straits Times his passport, valuables and other documents are still inside. The electrician has been living in a third-storey unit next to the damaged one for 11/2 years.
He was preparing to leave for work when someone banged on his door, yelling "Fire, fire, fire!", prompting him to run down with five other foreign workers. The 45-year-old said he had informed his company, with his boss saying he would try to check where he could stay tonight.