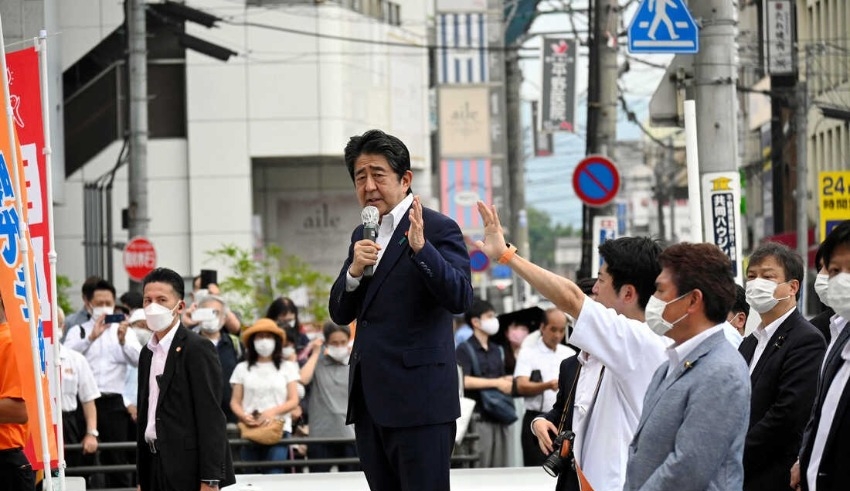 JAPAN: When Shinzo Abe, the former Japanese prime minister, was assassinated while campaigning in a western city, a hearse carrying his remains arrived in Tokyo on Saturday (July 9).
Even in a country like Japan, where violent crime is rare and gun rules are rigorous, the killing of a well-known politician has shocked the nation.
While top members of Abe's ruling Liberal Democratic Party (LDP), all in black, gathered up to pay their respects, the vehicle entered Abe's mansion in Tokyo.
Suspected Abe assassin admitted to killing the former Japanese prime minister because of his idea that he was tied to an unidentified organization, police said.
An investigation into the background of an unemployed 41-year-old Japanese man, who claimed to have been a member of the Japanese navy's Maritime Self-Defense Force (MSDF), was underway.
Before Sunday's upper-house elections, Abe was giving a speech, and campaigning continued Saturday with politicians vowing to show that democracy will prevail.
According to the Yomiuri Shimbun newspaper, Prime Minister Fumio Kishida warned a crowd of 600 supporters in Yamanashi, central Japan, that "violence to restrict expression" would not be tolerated during an election.
In the first campaign event following the assassination, the Yomiuri and other Japanese media described a tense atmosphere and heavy levels of security, with a metal barrier placed to separate the leader from the audience.
An unusual security step in Japan, a metal detector was also installed at the site.
Despite significant blood transfusions, Abe died of substantial blood loss, according to doctors on Friday.
It was reported that the prime minister's neck had been pierced by many wounds, and that the injury had spread to his heart.
When Abe was killed, Prime Minister Kishida called it a "barbaric act" and said it was "unforgivable" to Japan.
Related Posts
After the death of the previous leader was confirmed, he was obviously moved and declared that he was "lost for words."
In the wake of Friday's shooting, Kishida returned to the campaign trail on Saturday, visiting rural areas.
Eurasia Group analysts, including David Boling, noted in a note that Abe's death "enhances the possibility for better turnout and greater support for his Liberal Democratic Party."
Before the assassination, it was widely predicted that Abe's party, the LDP, would gain seats in the upcoming parliamentary elections. The 67-year-old legislator held the position of prime minister twice before resigning due to ill health.
Tatsuya Futami, 49, a Nara resident, said he hoped for a third term because of his improved health. "It's a terrible shame because he was still so young as a politician."
This "may catalyze Kishida's unfulfilled objective of revising the Japanese constitution to allow for a bigger role for the military," according to James Brady, vice president of advisory firm Teneo.
US President Joe Biden described himself as "stunned, appalled and profoundly grieved" by the news and ordered flags to fly at half-mast at all US government facilities.
In honor of Abe, the Sydney Opera House will be illuminated on Sunday by the Australian government.
Some of Abe's former adversaries in the region sent their sympathies. Japan's embassy in Beijing lauded Abe for his "contribution to the improvement and growth" of bilateral ties, while South Korea's President Yoon Suk-yeol labeled the assassination a "unacceptable act."
Researchers were still trying to piece together the identity of the killer and the motivations behind the assassination.
His name is Tetsuya Yamagami, and he confessed Friday to the murder of Japanese Prime Minister Shinzo Abe, saying that he did it out of revenge for an organization he felt Abe was affiliated to.
However, numerous Japanese media sites have referred to it as a religious organization.
Investigators said the rifle he used is "obviously handmade in appearance," and they found a number of other homemade weapons in Yamagami's home when they raided it on Friday.
Shortly before noon on Friday, the suspect shot and killed Abe. He has been arrested on suspicion of murder.
Pictures from Japan's national broadcaster NHK show Yamagami approaching from behind and pulling a weapon from his backpack before the camera cuts away.
There looked to be at least two rounds fired, each of which produced a plume of smoke. Security tackled him to the ground as onlookers and media dove for cover.